'718 days in space': Secretive US X-37B plane said to break record as it lands in Florida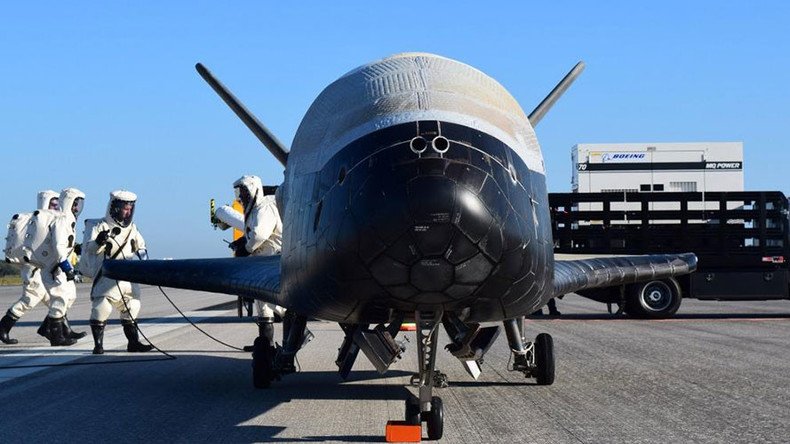 The US Air Force's X-37B space plane has returned to Earth from its secret mission in orbit which is said to have lasted a record-breaking 718 days.
The unmanned, reusable space plane landed at NASA's Kennedy Space Center in Florida after almost two years of circling our planet as part of a secret test mission.
Crews wearing protective suits for hazardous operations met the mini-shuttle as it touched down Sunday morning.
The touchdown marks the first landing at the space center's Shuttle Landing Facility since the Atlantis made the final flight of NASA's 30-year space shuttle program in July 2011.
The completed mission, known as OTV-4 (Orbital Test Vehicle-4), marks the fourth in the X-37B programme but is the first to have landed at the Florida space center. Three previous landings occurred at Vandenberg Air Force Base in California.
"This mission once again set an on-orbit endurance record and marks the vehicle's first landing in the state of Florida," said Lieutenant Colonel Ron Fehlen, X-37B program manager.
"We are incredibly pleased with the performance of the space vehicle and are excited about the data gathered to support the scientific and space communities."
While most of the X-37B's payloads and activities are classified, the Air Force has insisted that the mini space shuttle is simply testing technologies in orbit.
It outlines the programme's primary objectives as twofold. Firstly, it wants to test reusable spacecraft technologies for America's future in space, and secondly, to carry out experiments which can be returned to, and examined, on Earth.
"Technologies being tested in the program include advanced guidance, navigation and control, thermal protection systems, avionics, high temperature structures and seals, conformal reusable insulation, lightweight electromechanical flight systems, advanced propulsion systems, advanced materials and autonomous orbital flight, reentry and landing."
The X-37B, which is 29 feet long and has a wingspan of just over 14 feet across, launches vertically and comes back to Earth horizontally for a runway landing.
The OTV-4 has spent the longest period in space, substantially surpassing the first vehicle of the mission launched in 2010, which spent 224 days in orbit.
However it has failed to come close to the overall longest spaceflight mission. NASA's twin Voyager 1 and Voyager 2 probes are still sending data home, nearly 40 years after their 1977 launches, according to Space.com.
The fifth X-37B mission is scheduled to launch from Cape Canaveral Air Force Station, Florida, later in 2017.
You can share this story on social media: