Noise pollution affects majority of US protected areas with 'real impact on animals' – study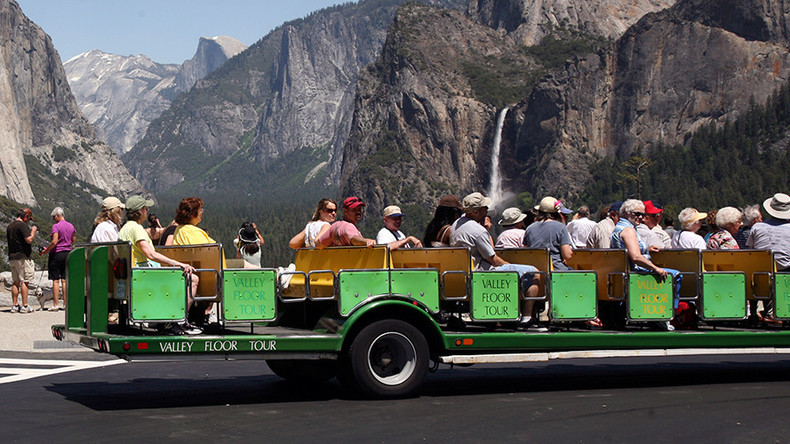 A new study finds noise pollution is twice as loud as normal background sound levels in nearly two-thirds of protected areas in the US. Researchers found noise pollution has a huge impact on wildlife in the protected areas.
Researchers from Colorado State University (CSU) in Fort Collins, along with the National Park Service, analyzed sound measurements from across the US and found human-caused sound was twice as loud as the natural ambient level in 63 percent of America's protected areas, according to a study published in Science Magazine on Thursday.
Anthropogenic noise, or human-caused noise, from airplanes, cars, industrial activities or residential areas, can affect wildlife in remote national parks and monuments. Anthropogenic noise has been found to alter species behaviors, reducing their ability to sleep, communicate and find food. As the study from CSU cites, anthropogenic noise can affect a song bird's ability to establish territories or find a mate.
According to the National Park Service special team who helped with the study, anthropogenic noise causes as much as a 70 percent reduction in the size of an area in which predators can hear their prey.
"Activities such as finding desirable habitat and mates, avoiding predators, protecting young, and establishing territories are all dependent on the acoustical environment," said Frank Turina, program manager for policy, planning and compliance at the National Park Service, according to the Outside Online. "When the acoustic environment is degraded by noise, these behaviors become more challenging."
Even an increase of three decibels can cut an animal's hearing in half.
"If you could hear a sound before at 100 feet, now you can only hear it from 50 feet," said Rachel Buxton, lead author of the study and a postdoctoral researcher at CSU, according to NPR.
In more than one-fifth of the protected areas, anthropogenic noise pollution increased the "natural" noise levels by a factor of 10. Such an increase could reduce an animal's listening area by 90 percent, according to the study. That means an owl that used to be able to hear a mouse from 100 feet away, could only hear that same sound from 10 feet away.
"What's become really clear to us, is that noise pollution has real impacts on animals," Buxton said, according to a video on CSU's website.
The study analyzed 1.5 million hours of sound measurements from 492 sites around the continental US and compiled them together to create a noise map. The lighter yellow areas indicate noisier conditions, while the darker blue areas indicate quiet areas.
Buxton said that the researchers were "encouraged to see that many large wilderness areas have sound levels that are close to natural levels," according to the CSU website. She added that areas not yet affected by noise pollution "need to be recognized and protected."
George Wittemyer, a CSU associate professor and senior author of the study, said that mitigation efforts have already been implemented in certain protected places, such as shuttle services that cut back on traffic, areas that encourage visitors to remain quiet and noise corridors where planes are rerouted to fly over roads instead of protected places.
"Next time you go for a walk in the woods, pay attention to the sounds you hear: the flow of a river, wind through the trees, singing birds, bugling elk," Buxton said. "These acoustic resources are just as magnificent as visual ones, and deserve our protection."