Iran attempts submarine cruise missile launch – US officials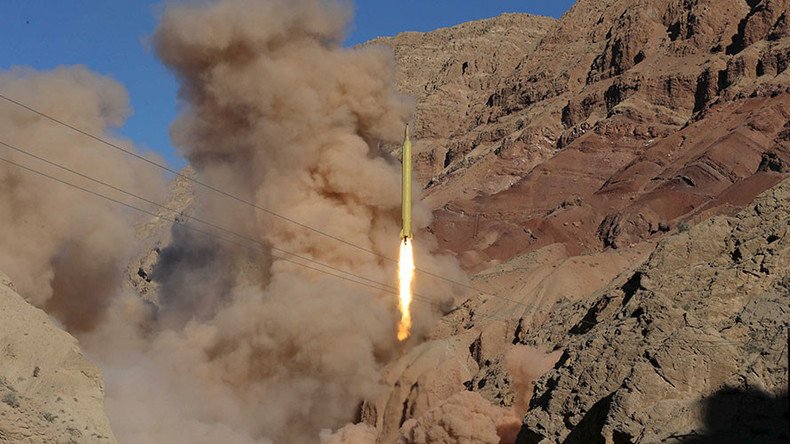 Iran has attempted to launch a cruise missile from a submarine in the Strait of Hormuz, but the test failed, according to US defense officials.
The attempt was made by an Iranian Yono-class "midget" submarine operating in the Strait of Hormuz, which borders Iran, US officials told Fox News on Tuesday.
It is not clear if Tuesday's test was the first time that Iran had attempted to launch a missile underwater from a submarine. In February, Iran claimed it was successful in a similar test.
It was reported last month that Iran's special naval forces were equipped with new anti-ship cruise missiles in a formal ceremony attended by the nation's top military brass.
The Washington Times reported that Iran has been purchasing sophisticated weapons from Russia including air-defense systems, nuclear assistance and possibly fighter jets and tanks.
Iranian officials announcing last month that Iran's defense budget had increased by 145 percent under President Hassan Rouhani and that the military was moving forward with a massive restricting effort aimed at making it "a forward moving force," according to BBC reports.
In April, the US Navy's guided-missile destroyer fired a warning flare after an Iranian Revolutionary Guard vessel came within 1,000 meters of the USS Mahan.
A set of ballistic missile tests carried out by Iran in early March infuriated Washington, when Iran announced it had successfully fired the Hormuz-2 naval missile capable of hitting targets within a range of 300 kilometers (180 miles). The US rolled out new sanctions against the Islamic Republic in turn.
In March, Iran's defense minister, Hossein Dehqan, advised the US military to leave the Persian Gulf and stop causing trouble there.
"What are Americans doing in the Persian Gulf? They had better get out of this region and not cause trouble for the countries in the region," Dehqan said in a statement carried by Iranian state media.
Dehqan's was responding to remarks made earlier in March by United States Central Command chief Gen. Joseph Votel, who accused Iran of being a destabilizing influence in the region.
"We are also dealing with a range of malign activities perpetrated by Iran and its proxies operating in the region," Votel said at a hearing before the Senate Armed Services Committee in describing Tehran's alleged influence over Iraq and Syria.
"It is my view that Iran poses the greatest long-term threat to stability for this part of the world," he said.
The statements made by military officials on both sides reflect the growing tensions between Iran and the United States.
You can share this story on social media: