Twitter stunned after Trump presents 'alternative facts' about US Civil War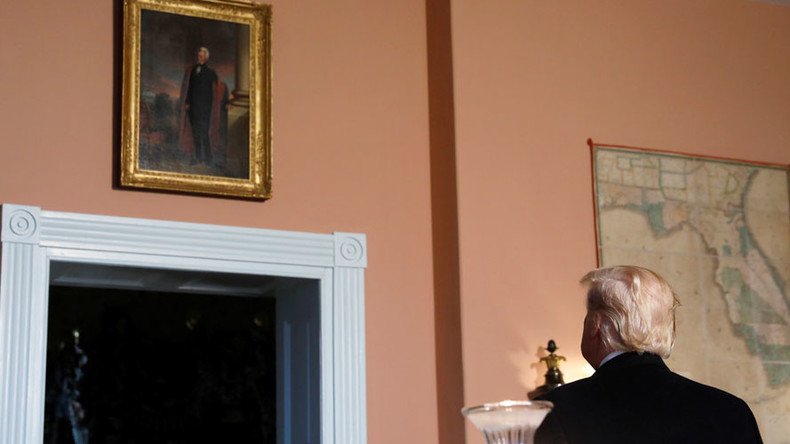 President Donald Trump has an alternative version of US history, according to social media, thanks to his "bizarre" remarks about the Civil War and Andrew Jackson, the United States' seventh president.
During an interview with the Washington Examiner's Salena Zito over the weekend, Trump questioned why the Civil War happened, and said that Jackson ‒ to whom he has compared himself ‒ would have prevented the catastrophic bloodshed if he'd "been a little later."
Historians, celebrities and the twitterverse all jumped on the remarks, which CNN's Poppy Harlow deemed "bizarre."
"I mean, had Andrew Jackson been a little later, you wouldn't have had the Civil War," Trump told Zito. As many pointed out, Jackson died in 1845, or 16 years before the so-called War Between the States began. Of course, if Trump was channeling his inner First Lady Mary Todd Lincoln, perhaps he's been holding seances in the White House to communicate with Jackson's ghost.
"He was a very tough person, but he had a big heart," Trump said of Jackson. "He was really angry that he saw what was happening with regard to the Civil War. He said, 'There's no reason for this.'"
Jackson was a slave owner before being elected president in 1829, owning as many as 300 slaves over the course of his life. Although he was considered to be one of the more "humane" owners, Jackson once offered a $50 reward (more than $1,100 in today's money) with a bonus of $10 per hundred lashes given to the slave, up to $300 (over $7,000 in 2017).

Jackson was infamous as the man behind the Trail of Tears, the series of forced removals of Native Americans from their ancestral homelands in the southeast to lands west of the Mississippi River. More than 4,000 people died along the way.
"People don't realize, you know, the Civil War ‒ if you think about it, why?" Trump asked. "People don't ask that question, but why was there a Civil War? Why could that one not have been worked out?"
During his presidency, Jackson did try to prevent conflict between the slave-owning South and the abolitionist North. The Nullification Crisis in 1932 occurred when South Carolina declared federal tariffs unconstitutional and thus null and void within the state. The crisis ended when Congress passed a bill authorizing Jackson to use force against the Palmetto State and a new compromise tariff, but neither addressed the underlying issue. When the southern states seceded in 1861, slavery was cited as the reason.
After not realizing freed slave Frederick Douglass ‒ who would have turned 200 next year ‒ was dead during Black History Month in February, perhaps it should have come as no surprise that Trump is not exactly a student of history. But his seeming amazement that no one has looked into the reasons the Civil War happened was a facepalm moment on social media.
Some pointed out that, since Trump sees Jackson as his favorite president, he may have thought that Jackson was as good at the job of negotiator-in-chief as "The Art of the Deal" co-author is reported to be.
Others noted that Trump appeared to blame President Abraham Lincoln, the Republican in the White House at the start of the Civil War, in saying that Jackson, a Democrat, would have prevented the war.
Trump had some defenders both from within his base and from those who normally criticize him.
As always with social media trends, Trump's comments led to much satire on Twitter.
You can share this story on social media: