'Like a 3rd world nation': Trump blasts US infrastructure, pledges to spend $1T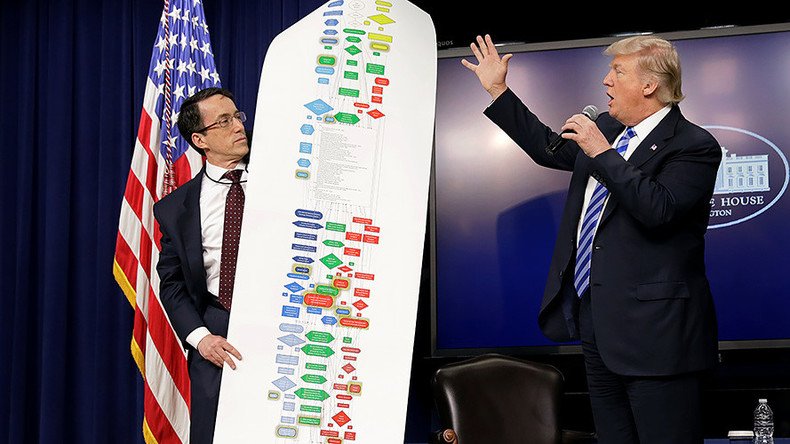 President Trump has compared the state of US infrastructure to that of the third world and said his infrastructure plan is nearly completed which envisages a $1 trillion spend over 10 years.
The proposal is said to cover more than bridges and roads expanding to include energy, water, potential broadband and veterans' hospitals.
"We're going to do infrastructure very quickly. We've got the plan largely completed, and we'll be filing over the next two or three weeks, maybe sooner," President Donald Trump told CBS News' John Dickerson in an interview that aired on Monday's "This Morning" program.
President Trump has been using China's slick new roads and airports as an example of what he wants.
"What China's done is incredible," the president told conservative journalists, according to the Washington Examiner. "We're like a Third World nation," he added of US transportation.
"We build a bridge and it's like a miracle in this country," he added, expressing frustration on moving forward with the plan.
Trump then mocked the $6 billion spent to fix up Iraq, Afghanistan and other Middle East nations.
"We've spent $6 trillion in the Middle East," he said in a renewed push for his plan, and "it's 20 times worse than when we started."
Capitol Hill and the construction world are eagerly awaiting Trump's yet-to-be officially released plan which the administration has touted will give a face lift to the nation's roads and bridges, while also funding other projects like water systems and internet access.
President Trump also told Bloomberg News on Monday that a gasoline tax hike is "something that I would certainly consider… if we earmarked money toward the highways."
Trump's tax plan, released last week, did not mention the gas tax, which is 18.4 cents a gallon on gasoline and 24.4 cents a gallon for diesel. It was last raised in 1993, when gas averaged $1.17 a gallon.
In March, US Transportation Secretary Elaine Chao said the Trump administration would unveil its infrastructure plan later this year, but she did not offer details of funding for projects, according to CNBC.
Chao said the administration plans to offer incentives for public-private partnerships rather than simply fund improvements. It was not clear how much new federal funding the Trump administration would propose.
She said the plan would aim to speed the processes for government projects. "If you have a job that you can't start within 90 days, we're not going to give you the money for it because it doesn't help," Trump said last month. "We're going to be very strong on that. They have to be able to start within 90 days."
The idea of spending $1 trillion on such projects could stumble in Congress, where partisan differences over how to pay for it could overtake the bipartisan interest in getting something done.
President Trump has signed an order to create an American Technology Council to help the government deliver better digital services. The new council would bring combine government and private-sector ideas to solve long-term problems and would begin by inviting big names from Silicon Valley to the White House in early June.
You can share this story on social media: