Trump breaches diplomatic protocol by inviting Duterte without telling State Dept.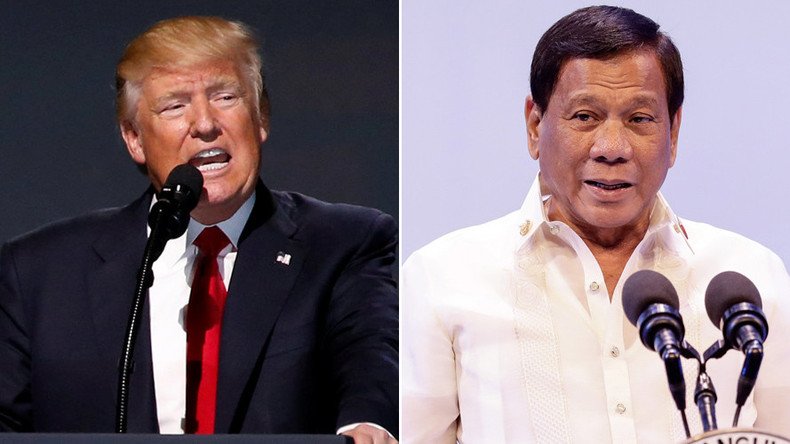 In what is becoming a recurring theme, the Trump administration's national security and diplomatic apparatus was once again caught off guard when the POTUS extended an official invitation to President Duterte of the Philippines without telling them.
The two controversial and highly outspoken presidents had a "very friendly" conversation via telephone on Saturday, in which President Trump raised the potential for a meeting between the two leaders "to discuss the importance of the United States-Philippines alliance."
Both the National Security Council and the State Department were caught unawares by the move, as the phone call was one of many made on Saturday to leaders in Southeast Asia, including Prime Ministers Lee Hsien Loong of Singapore and Prayut Chan-o-cha of Thailand.
Such invitations are in clear breach of established diplomatic protocol governing state visits to the White House as established by the US State Department.
The invitation to the Oval Office was extended to restore confidence amid increasing tensions with North Korea, White House Chief of Staff Reince Priebus said on ABC's This Week.
Though Duterte may be too "tied up" with a busy schedule to attend any meeting between the pair. "I cannot make any definite promise," Duterte said Monday, according to Reuters.
Duterte and Trump share a penchant for brash rhetoric and the projection of a strongman image, particularly when it comes to Islamist terrorism and drug policy.
"By essentially endorsing Duterte's murderous war on drugs, Trump is now morally complicit in future killings," John Sifton of Human Rights Watch told the New York Times.
"Hitler massacred 3 million Jews. Now, there are 3 million drug addicts [in the Philippines] ... I'd be happy to slaughter them," Duterte famously said in September.
Concerns regarding a possible conflict of interest have also been raised. Trump's name is stamped on a $150 million, 57-floor tower in Manila, in a licensing deal that netted the Trump brand millions of dollars.
It has now emerged that Duterte himself appointed the chairman of the development company behind the tower, Jose E. B. Antonio, as a trade envoy to Washington.
"We are watching in real time as the American human rights bully pulpit disintegrates into ash," Senator Christopher S. Murphy, a member of the Senate Foreign Relations Committee, said on Twitter.
You can share this story on social media: