Machete-wielding teenager attacks Democratic students in Kentucky
Published time: 28 Apr, 2017 22:03
Edited time: 29 Apr, 2017 19:03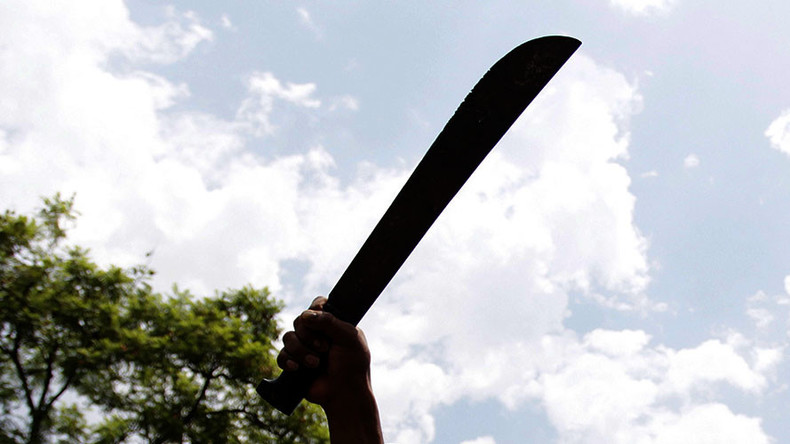 A Cincinnati teenager has been arrested and charged with assault after allegedly attacking two female students with a machete at a university in Kentucky after asking victims about their political affiliation.
The attack happened at 9:00am when the teen threatened students and staff in a cafe at the Transylvania University campus in Lexington on Friday.
"A guy came in, banged something, a hatchet or an ax, on the table, and said 'the day of reckoning has come," said Tristan Reynolds, a student who was inside the campus cafe when the attack happened, according to the Lexington Herald-Leader. "He asked somebody what their political affiliation was, they said 'Republican' and the guy said, 'You're safe.' And then I realized what was going on and started getting people out."
One of the injured students was treated on campus, while the other was sent to the hospital with injuries that weren't considered life-threatening, according to fire department battalion chief Joe Best.
Mitchell W. Adkins was charged with first-degree assault, fourth-degree assault and three counts of wanton endangerment, according to Lexington Police Chief Mark Barnard.
Adkins, 19, was allegedly armed with a machete and knives and had various weapons in a bag. Some 30 to 40 students and staff were in the café at the time when Adkins made verbal threats and attacked the two women.
Campus security officers subdued the assailant quickly who was thought to have been a previous student at the campus.
Adkins was also taken to hospital for "self-inflicted injuries," according to police.
The university canceled classes for the day.