Twice the price of Clinton: Obama to net $400K for Wall street speech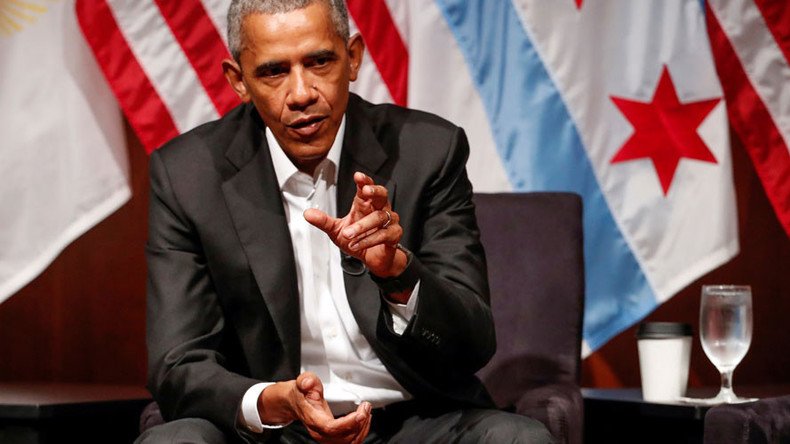 Former President Obama is set to net $400,000 for speaking at a Wall Street health care conference; that's nearly twice what Clinton was paid to become one of the most expensive speakers on Wall Street.
Obama's speaking engagement at a conference run by Cantor Fitzgerald LP was confirmed by senior people at the firm, according to Fox Business.
Obama will be the keynote speaker for one day and has signed a contract although a formal announcement is being coordinated. Fox Business said it confirmed Obama's appearance with senior members at Cantor, a financial services firm.
The former president's reported speaking fee is near twice the price commanded by Hillary Clinton, the 2016 Democratic presidential nominee.
The disclosure came the same day Obama made his first public appearance since leaving office at the University of Chicago to moderate a panel discussion with young people about public service.
The former president did not mention President Trump or offer political commentary during his appearance at the University of Chicago.
"There's a reason why I am always optimistic, even when things look like they are sometimes not going the way I want," he said at a round table about youth participation in civic life, according to the Hill. "And that's because of young people like this."
Obama won't be the first former president or politician to accept large fees for speaking to business groups. All ex-president get pensions, to the tune of $205,700 annually, and the amount increases to keep up with inflation.
Former presidents also receive federal money to cover expenses such as office space and staff. In his final press conference as president, Obama revealed one plan for 2017 "I want to do some writing."
If that entails working on a memoir, publisher and literary agents consulted by the New York Times said such a contract would be worth somewhere between $12 and $30 million.
Not being independently wealthy, Obama will seek to cash in on speaking fees and lucrative book deals. After long stints in public office, speaking engagements are a common way for people to drum up some extra income although it often leads to intense public scrutiny and criticism.
Topping the list is the current US president Donald Trump who was paid $1.5 million per speech at The Learning Annex's 'real estate wealth expos' in 2006 and 2007, according to Forbes.
"Trump appeared at 17 seminars and collected this fee for each one."
Bill and Hilary Clinton have reportedly been paid upwards of $200,000 per speech over the years, with Bill receiving over $500,000 for some guest-speaker engagements.
CNN estimated that the Clintons earned over $153 million in speech fees from 2001 through 2015, including talks at business forums in China and corporate events hosted by the likes of Goldman Sachs and Swedish telecom giant Ericsson.Hilary Clinton told ABC's Diane Sawyer her family was "dead broke" upon leaving the White House.
READ MORE: Clinton reportedly earned $30 million over 16 months
Joining her parents, Chelsea Clinton commands a speaking fee of $75,000 according to the New York Times. The fees go directly to the Clinton Foundation.
The former Treasury Secretary, Tim Geithner, was reportedly paid $100,000 to speak at Blackstone's annual meeting in 2013. He was also paid as much as $200,000 to speak at Deutsch Bank conference the same year, according to the Financial Times.
Former Federal Reserve chairman, Ben Bernanke, raked in between $200,000 and $400,000 per speaking engagement, according to The New York Times, for international audiences which included "a Middle Eastern bank, private equity firms and trade associations."
READ MORE: Ben Bernanke gets $250K for first post-Fed speech
You can share this story on social media: