Trump omits climate change in Earth Day speech, praises 'rigorous science & economic growth'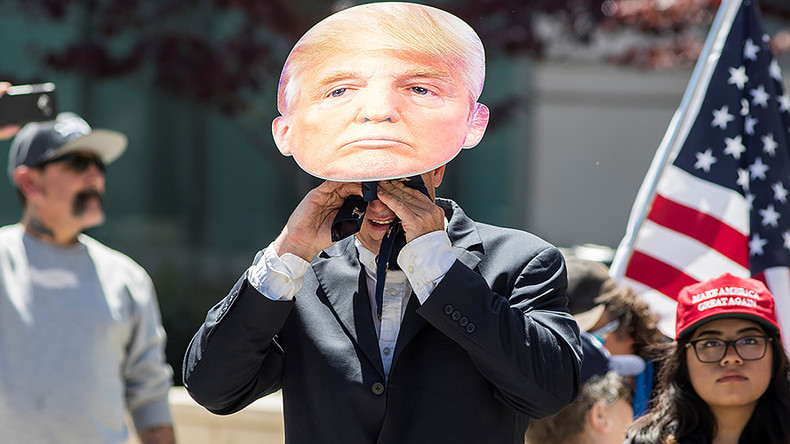 President Trump omitted climate change from his Earth day speech, while proclaiming his commitment to preserving America's "natural resources and beauty." He made it clear, however, that environmental protection could not come at the expense of US jobs.
While the 2017 Earth Day's campaign was focused on environmental and climate literacy, US President Donald Trump chose to omit climate change issues in his Saturday statement altogether.
Trump praised America's natural resources and beauty, stating that his administration was committed to preserving them for future generations.
"Our Nation is blessed with abundant natural resources and awe-inspiring beauty. Americans are rightly grateful for these God-given gifts and have an obligation to safeguard them for future generations," Trump's statement reads.
"My Administration is committed to keeping our air and water clean, to preserving our forests, lakes, and open spaces, and to protecting endangered species," it says.
Today on Earth Day, we celebrate our beautiful forests, lakes and land. We stand committed to preserving the natural beauty of our nation.

— Donald J. Trump (@realDonaldTrump) April 22, 2017
The US president then promptly turned to issues related to jobs and the economy. According to Trump, an assessment of environmental risks should be linked directly to economic growth and "rigorous science."
The main goal of administration is "reducing unnecessary burdens on American workers and American companies, while being mindful that our actions must also protect the environment," the president's statement says.
"Economic growth enhances environmental protection. We can and must protect our environment without harming Americas working families," Trump said in his statement.
I am committed to keeping our air and water clean but always remember that economic growth enhances environmental protection. Jobs matter!

— Donald J. Trump (@realDonaldTrump) April 22, 2017
"Rigorous science is critical to my Administrations efforts to achieve the twin goals of economic growth and environmental protection… As we do so, we should remember that rigorous science depends not on ideology, but on a spirit of honest inquiry and robust debate," he added.
Not mentioning climate change in the Earth day statement is a break from the lines of previous US administrations. Both Barack Obama and George W. Bush addressed the matter in their speeches. Trump's views on the issue are widely known, as he stated on multiple occasions during the presidential election campaign that the whole climate change idea is a hoax "invented by the Chinese."
Read more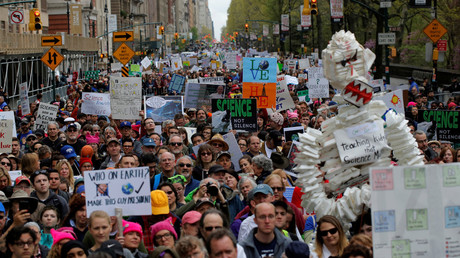 Despite his proclaimed "commitment" to preserving the country's "natural resources and beauty," activists say Trump's actions since taking office have shown little consideration for environmental issues. Trump has appointed a number of people with views similar to his own to the cabinet, including Scott Pruitt, who leads the Environmental Protection Agency (EPA), and Rick Perry, who is in charge of the Department of Energy (DOE).
While Oklahoma's attorney general, Pruitt sued the EPA over a dozen times. Perry wanted to see the DOE abolished altogether back in 2012, but said he "regretted" those comments after Trump nominated him as the agency's secretary.
Apart from the cabinet appointments, the EPA took the biggest funding cut in Trump's 2018 budget proposal and also had the word "science" dropped from its mission statement. Its new head has stated that climate change is a matter of "debate."
During President Trump's first 100 days in office, his administration has shown more commitment to extracting natural resources than preserving them, moving to repeal several environment protecting acts, including the Stream Protection Rule and the Clean Water Rule. Lifting these could deprive some 120 million Americans of clean water, as well as endanger numerous wildlife species, according to estimates from environmentalists.
Late in March, Trump signed an executive order overriding Obama's rules on carbon emissions and declared an "end of the war on coal." The order lifted restrictions on coal power plants and a moratorium on new coal exploration on federal lands, while revoking Obama's executive orders mandating that climate change be considered a national security issue.