Algae toxin killing marine mammals along California coast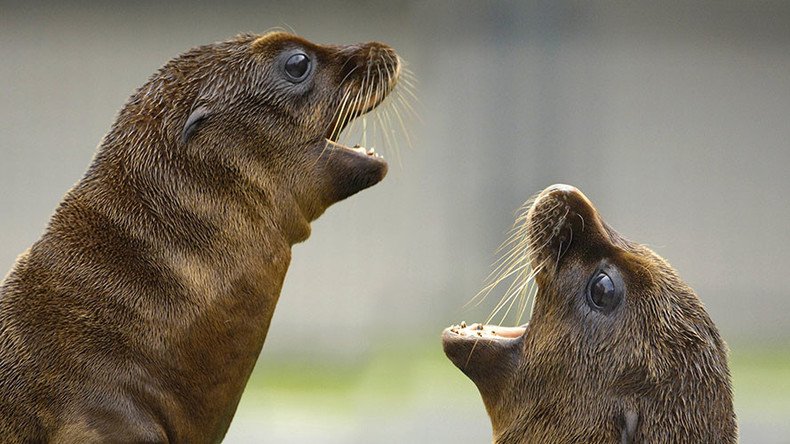 Dozens of sick and dying sea lions, seals, loons, pelicans and other fish eaters have been reported along the Pacific coast in Southern California. Algae bloom has caused a spike in domoic acid, a neurotoxin that is passed from fish to their predators.
Domoic acid poisoning is at least partly to blame for the spate of sick marine life from Santa Barbara to San Diego, according to reports. Fish eat algae then pass on the naturally occurring neurotoxin to its predators, causing seizures, brain damage and, in some cases, death.
Organizations like the Channel Islands Marine & Wildlife Institute (CIMWI) and the Pacific Marine Mammal Center (PMMC) have fielded hundreds of calls per day in the last week or so, according to local reports, flagging sick or dead animals along Southern California beaches.
"Right now, we're averaging 30 animals on watch per day," said Samuel Dover, CIMWI's president, according to the Ventura County Star.
Sea lions, dolphins, harbor seals, Guadalupe fur seals, elephant seals, loons, grebes, cormorants and brown pelicans are among the species that have been impacted, according to reports.
In a two-week span this month, the PMMC rescued 24 sea lions, but only 10 survived.
"At the beginning of the year it kind of seemed we were headed to a normal, slower year," PMMC's Krysta Higuchi told the Daily Breeze. "All of a sudden we went from one or two rescues to five or eight a day.... We went from 14 animals to 35 in a week's span."
Domoic acid is also known as Amnesiac Shellfish Poisoning. The algae bloom that is carrying the neurotoxin is the result of the area's heavy winter rains and subsequent runoff emptying into the ocean, Higuchi said. Climate change, she added, has also exacerbated the algae bloom.
Signs of domoic acid poisoning include lethargy, seizures and foaming at the mouth, according to experts.
Volunteers have roped off areas near sick sea lions along Ventura County beaches, the Ventura County Star reported, and officials have urged anyone who finds a distressed animal to stay away and report the animal to authorities. Sick animals are stressed and disoriented, making them a danger to the public if approached, experts said.
Due to the domoic acid levels, the California Department of Public Health has called on consumers to avoid eating "recreationally harvested bivalve shellfish" such as mussels, clams or scallops. Last week, the department said there had yet to be any reports of human poisoning.
You can share this story on social media: