China approves 3 Ivanka trademarks on day she met President Xi Jinping
Published time: 18 Apr, 2017 18:16
Edited time: 19 Apr, 2017 07:04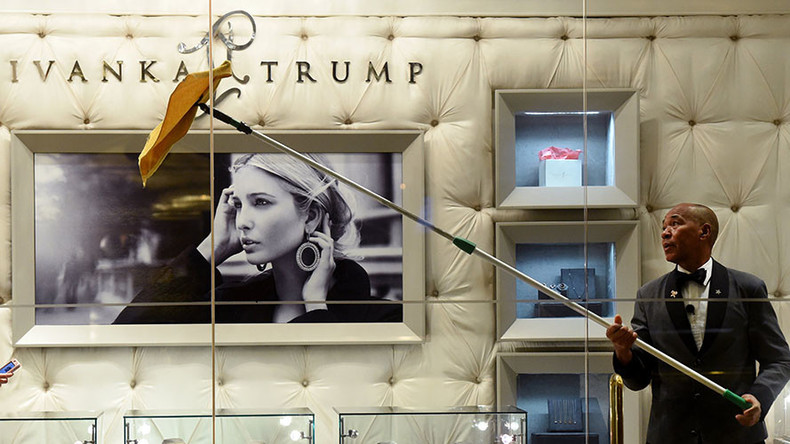 Ivanka Trump's company had three trademarks approved in China on the same day Ivanka and her husband, Jared Kushner, met with Chinese President Xi Jinping at a state dinner.
The trademarks confer monopoly rights to sell Ivanka brand jewelry, bags and spa services, according to AP.
AP reported that building a brand while carrying out government service is not illegal but criminal conflict of interest law prohibits federal officials, like Ivanka Trump and her husband, from participating in government matters that could impact their own financial interest or that of their spouse.
The company said in a statement that Ivanka Trump has not signed off on the new China trademark applications, and added that even with the approvals the company is "not necessarily an indication that the brand is planning to launch a category or a store in a specific territory."
To address ethical concerns, Ivanka Trump shifted the brand's assets to a family-run trust valued at more than $50 million and pledged to recuse herself from issues that present conflict of interest.
"Ivanka will not weigh in on business strategy, marketing issues, or the commercial terms of agreements," her attorney, Jamie Gorelick, said in a statement, according to AP. "She has retained authority to direct the trustees to terminate agreements that she determines create a conflict of interest or the appearance of one."
Just ethics lawyers are not persuaded.
"Put the business on hold and stop trying to get trademarks while you're in government," Richard Painter, who served as chief White House ethics lawyer under George W. Bush, told AP.
The Trump administration took a beating when White House counselor Kellyanne Conway exhorted Fox viewers to "Go buy Ivanka's stuff," and "I'm going to give a free commercial here: Go buy it today, everybody; you can find it online."
Ivanka products sales spiked 771 percent in February, compared with the same period a year before.
Legal experts said Conway might have violated a federal ethics rule against endorsing products or promoting an associate's financial interests.
Conway was responding to a Trump family clash with Nordstrom, the department store chain, which has dropped Ms. Trump's line. The president used his personal and White House Twitter accounts to lash out at Nordstrom, saying that the company had treated his daughter "so unfairly."
Large national discount retailers TJ Maxx and Marshalls, and Neiman Marcus, the luxury department store, also took steps to give less prominence to Ivanka's products.
Despite boycotts and several stores limiting her merchandise, Ivanka's brand is flourishing, according to the AP.
US imports of Ivanka products, the majority from China, increased an estimated 166 percent last year, and sales hit record levels in 2017, with $17.9 million.
A lawsuit is also pending in federal court in New York, alleging that Mr. Trump is violating the Constitution by accepting payment from foreign governments at his hotels and golf courses around the world.
In addition to the China trademark deal she has at least nine new trademarks with Philippines, Puerto Rico, Canada and the US, all since the election, according to AP.
The company has 16 registered trademarks in China and 32 pending applications, and four marks have preliminary approval since the inauguration. There is no indication the recent approvals were swift.
The company has more than 180 pending and registered trademarks in countries including Canada, India, Japan, Israel, Mexico, Turkey, Saudi Arabia as well as in the US and Europe, according to public records.
"You can't separate Ivanka from her role in her life and her business," Allen Adamson, founder of BrandSimpleConsulting told AP. "Her celebrity status is now not only be fueled by her wealth and her family connection, but by her huge role in the White House. All that buzz is hardwired into her products."
Adamson said that is a competitive advantage other brands just can't match.