Thousands across 150+ US cities demand to see Trump's tax returns (PHOTOS, VIDEOS)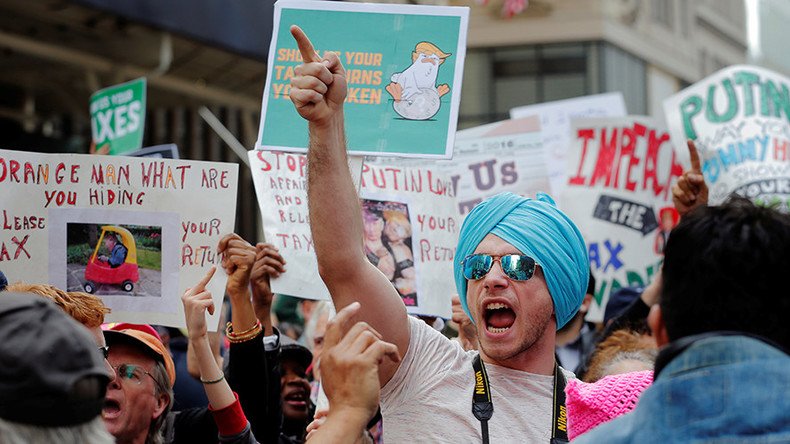 Tens of thousands of protesters have marched across more than 150 US cities, demanding that president Donald Trump release his tax returns. While violent brawls marred the event in Berkeley, California, most of the rallies proceeded without incident.
READ MORE: Several arrests as pro-Trump protesters clash with counter rally in Berkeley, California (VIDEO)
Apart from Berkeley, where clashes resulted in more than a dozen arrests, up to 200 communities across the US took to the streets, sending a loud and clear message to the president just days before tax filing begins in the United States.
"Throughout his campaign, Donald Trump told the American people he would release his tax returns. Despite intense public pressure, President Trump has not yet done so – breaking with 40 years of precedent in the process. His administration's excuse? 'People don't care,'" the organizers, comprised of a coalition of 70 progressive groups said on their website.
While US Presidents are not required to release their tax returns, all commanders-in-chiefs have from the 1970's done so voluntarily. So far, Trump has refused to share his financials, as they are allegedly being audited by the IRS.
To make Trump's financial dealings more "transparent," activists marched across the nation, from Washington DC to Seattle.
Some of the largest crowds were seen in New York and Los Angeles, with each event drawing about 5,000 people each, Reuters reported.
In the nation's capital, more than 1,500 protesters flocked to the steps of Capitoll Hill before marching with placards to the Lincoln Memorial.
"I don't respect this president. I don't trust this president. He's not working in the best interests of the American people," Rep. Maxine Waters (D-Calif.) told the crowd in Washington DC, as she urged her countrymen to impeach Trump.
"I will fight every day until he is impeached," she said, as reported by the Hill.
While no violence has been reported at any of the events, in Berkeley California, things got ugly. Clashes erupted between supporters and opponents of Trump at a park at around noon. Police were forced to intervene with tear gas to try to quell the crowd. More than a dozen people were arrested.
According to a poll conducted by Global Strategy Group this week, some 80 percent of Americans and 64 percent of Republicans want the US leader to make his tax records public.
You can share this story on social media: