Texas to get new 1,000-bed immigrant detention center under Trump
Published time: 14 Apr, 2017 17:31
Edited time: 15 Apr, 2017 18:39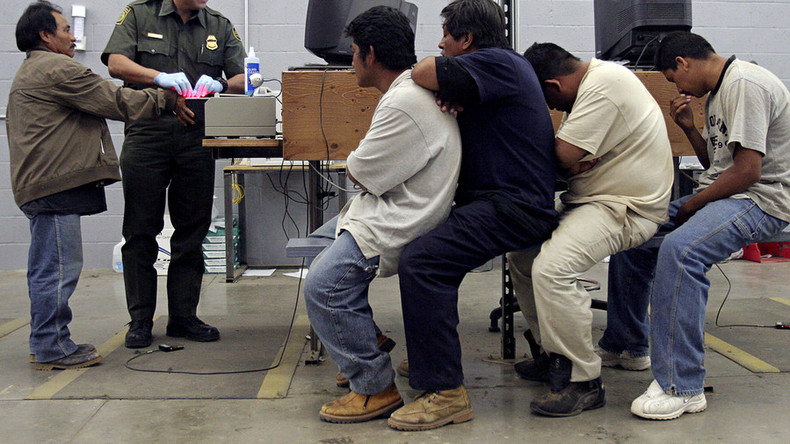 A private prison company has won a government contract to build a new 1,000-bed detention center in Conroe, Texas, under President Donald Trump's deportation expansion plans.
GEO Group, one of the nation's largest for-profit prison companies, announced Thursday they had won the $100 million contract. The detention center is expected to open in 2018 and is expected to generate approximately $44 million in annualized revenues, the company said, according to AP.
It will join three existing detention centers in the Houston metro area, making it a hub of immigration detainment and deportation.
Combined, the four centers will be able to house 3,000 adult immigrants, according to Immigration and Customs Enforcement (ICE) spokesman Greg Palmore.
ICE has already detained a record-high of more than 41,000 people, and more than 60 percent of them are housed in for-profit prisons under government contracts.
The facility coincides with Trump's promise to expand immigration detention, part of a larger crackdown on illegal immigrants in the country, which includes detaining people seeking asylum while they go through immigration proceedings.
"Aliens who illegally enter the United States without inspection or admission present a significant threat to national security and public safety," the president said in a January 25 executive order that asked ICE to "allocate all legally available resources to immediately construct, operate, control, or establish contracts to construct, operate, or control facilities to detain aliens at or near the land border with Mexico."
Reaction from civil rights groups has been swift, citing fears that immigrants' rights will be violated in order to fill the spaces.
"This is just the first step in the administration's planned expansion of immigration detention, which promises an enormous boondoggle for the private prison industry. If implemented, President Trump's blueprint for mass deportation will tear apart families and bring to life some of his worst campaign rhetoric," Carl Takei, staff attorney at ACLU National Prison Project, told the Houston Chronicle.
Currently, jails holding immigrants facing deportation have a list of requirements, such as notifying officials if a detainee spends two weeks or longer in solitary confinement, informing detainees in languages they understand how to obtain medical care and providing a staff member who advocates on behalf of a detainee in disciplinary hearings.
Two Homeland Security Officials shared knowledge of plans to curtail these rules that would do away with translation services and jails merely have procedures on providing medical care, the New York Times reported.
Immigrants have complained about the conditions in detention centers before. Over 100 refugees, mostly South Asians, at three facilities participated in a nationwide hunger strike in 2015. During the strike, they called for an end to all detentions and deportation, pressed for release on parole or supervision for those held more than six months, and sought improved conditions such as medical and phone access, clothing and food.
Detention Watch Network, a Washington-based non-profit fighting to end detention, outed many of the facilities for poor conditions and services. Silky Shah, the organization's co-director, told AP that the new facility in Texas "is totally unprecedented."
"Even the most recent expansion we've seen has been county jails and repurposing facilities that have been shuttered," she said.