1st video released of US mega-bomb strike against ISIS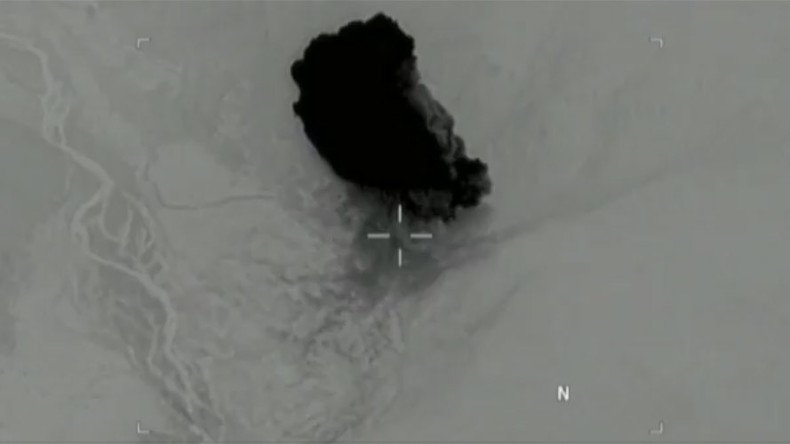 US Forces in Afghanistan have released aerial footage of the Massive Ordnance Air Blast (MOAB) strike on an Islamic State cave and tunnel systems in the Achin district on Thursday.
READ MORE: US drops largest non-nuclear bomb on Afghanistan, first time used in combat
The footage shows the devastation of the 11-ton yield bomb. It was dropped from a MC-130 aircraft and a large mushroom cloud of smoke can be seen over the region, with a massive crater left in its wake.
The MOAB, known officially as the GBU-43/B, was first tested in 2003 but had not been used by the US since, due to concerns over possible civilian casualties. The bomb has a blast radius of 1-mile (1.6 km).
READ MORE: Meet the 'Mother Of All Bombs': 6 facts about bomb Trump dropped on Afghanistan
The Afghan Defense Ministry said no civilians were affected by the MOAB, and that the blast resulted in the deaths of up to 36 presumed terrorists.
"No civilian has been hurt and only the base, which Daesh [Islamic State, IS, formerly ISIS/ISIL] used to launch attacks in other parts of the province, was destroyed," Dawlat Waziri, a spokesman for the Afghan ministry, said.
Smoke could still be seen rising from area of impact on Friday with locals still trying to determine the number of casualties.
"There were bases and safe-heavens for Daesh [IS] in the area where US forces dropped a big bomb last night. A lot of ISIS affiliates may be demolished but we don't have the precise figures of the casualties," the Chief of Achin District told RT's Ruptly video agency.
WATCH MORE:
You can share this story on social media: