'Holy roller, Batman!': 24 people stranded on Joker roller coaster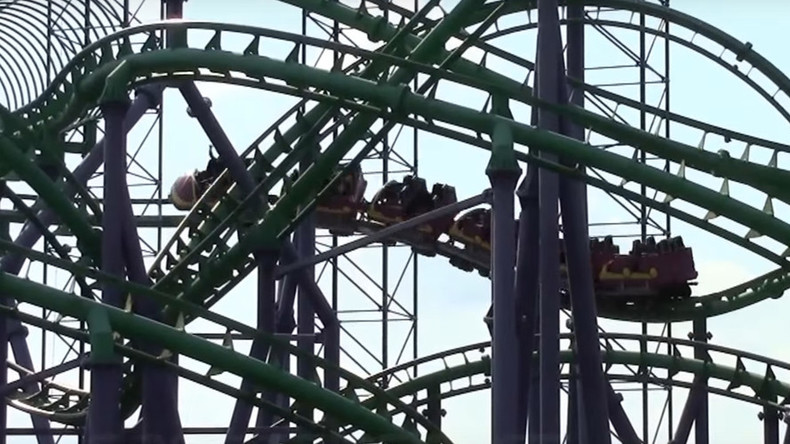 Why so serious? Because two dozen riders who lined up at Six Flags to catch a ride on the Joker's Jinx roller coaster in Bowie, Maryland, ended up being stuck 100 feet in the air waiting for the Fire Department to rescue them.
The Joker themed roller coaster, which reaches a top speed of 60mph, usually lasts just over one minute, according to Six Flags. On Thursday, 24 people got to have the ride all to themselves for up to four hours before firefighters were able to bring the final riders back to solid ground.
Seven children and 17 adults were on the ride when it stalled in an upright position at about a 20 to 30-degree angle, according to WUSA.
No injuries were reported.
A statement issued by Six Flags says the roller coaster malfunctioned after it "did not complete its regular ride cycle, causing it to stop at a safe location on the track."
Firefighters were called to the scene, where they worked with Six Flags staff to bring the riders to the ground. The firefighters equipped their ladders with buckets to rescue the children followed by the adults on the ride.
Julia Valverde, one of the first riders to be rescued by firefighters, described the situation as "really scary," in an interview with WTTG.
At 9:21pm, Six Flags announced that all the passengers were safely off the ride, which they said will remain closed until "a thorough inspection is performed."
Jokers Jinx update: All riders safely off ride as of 9:21 p.m. Ride will remain closed while a thorough inspection is performed.

— Six Flags America (@SixFlagsDC) April 14, 2017
Brady told WTTG that he is familiar with the coaster, which also malfunctioned in 2014 in around the same position, with the same number of riders. That rescue also took around the same amount of time, Brady said.