Dakota Access Pipeline to begin interstate oil delivery service May 14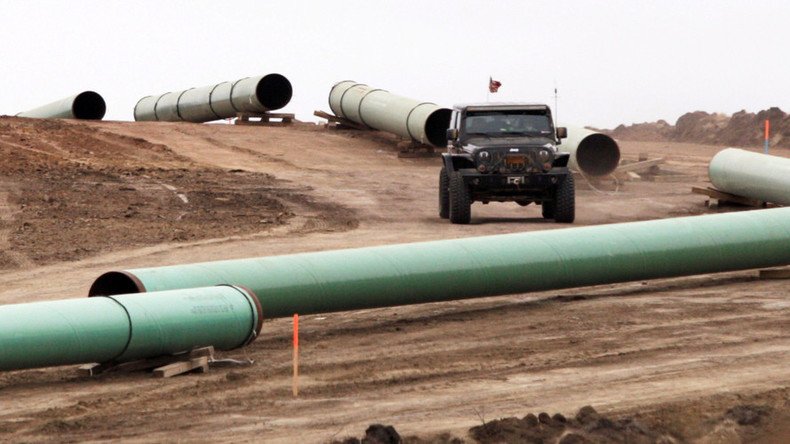 Crude oil could begin flowing through the controversial Dakota Access Pipeline next month, according to a filing pending with the Federal Energy Regulatory Commission.
On Thursday, Energy Transfer Crude Oil Company, LLC filed an oil tariff, which specifies details about the Dakota Access Pipeline. The company's plan is to start interstate crude oil delivery on May 14, providing oil transportation from Patoka, Illinois, to Nederland, Texas.
Last year, protests erupted after Dallas-based Energy Transfer Partners began construction on the final segment of the $3.8 billion, 1,172-mile pipeline. The final segment required the company to lay piping under Lake Oahe, the main water source for the Standing Rock Sioux and Cheyenne River Tribes.
The two tribes filed multiple lawsuits against Energy Transfer Partners to stop construction of the pipeline, arguing the land belonged to them and that the pipeline would desecrate sacred burial grounds around Lake Oahe. Many also argued that an oil spill would poison the tribe's primary water supply.
At its peak, thousands of protesters, known as "water protectors," set up a camp outside the construction site. Protesters lived at the camp site for months where hundreds were arrested. Other protests also erupted across the nation, from Washington, DC to Los Angeles.
In December, hundreds of Army veterans showed up to support the protesters before former President Barack Obama halted construction of the pipeline, citing that further environmental impact studies needed to be conducted.
Thousands of Native tribe members, climate activists and military veterans left the protest camps en masse, with a few remaining through the harsh North Dakota winter.
Then, shortly after winning the 2016 election, President Donald Trump ordered the construction to resume in January.
READ MORE: US appeals court rejects last-minute bid to block DAPL launch
In February, the US Army Corps of Engineers announced it would grant the final permit for the Dakota Access Pipeline and cancel any further environmental studies.
READ MORE: Trump administration gives go-ahead to controversial Keystone XL pipeline
In March, court filings revealed that Energy Transfer Partners began pumping oil into the pipeline underneath the Missouri River reservoir in North Dakota.
You can share this story on social media: