'No raids, no bans, no wall' yell protesters arrested after staging sit-in Trump Tower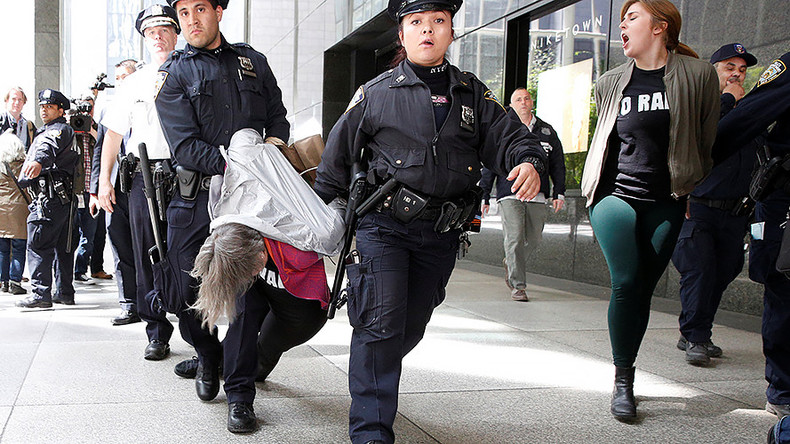 About three dozen protesters occupied the lobby of Trump Tower in New York where they staged a sit-in to protest the Trump administration's anti-immigrant policies before being arrested. The New York Police Department arrested 25 people.
Activists first showered the lobby with leaflets.
Unfurled several black banners from the mezzaine, one read "No Raids," emblazoned in white lettering. Then staged their sit-in at Thursday lunchtime in Manhattan.
Demonstrators also held aloft signs that read "Take the Path of Most Resistance," "No Person is Illegal," "No Ban," "No Wall," and "Claim Freedom."
Dozens of New York police officers arrived and began arresting people inside.

At least people were carried out of the building after being cuffed with plastic ties.
The NYPD arrested 25 people total, Reuters reported.
Protesters read out their names as they were arrested, and chanted "No raids, no bans, no wall."
Ray Black who joined the activist group Rise and Resist said about 50 people had gone into the tower to protest Trump's stance on immigration.
Black told NBC they had been planning the protest weeks ago.
According to its Facebook page, it was formed as a "direct action group" in response to the election of President Trump.
Security has been boosted at Trump's residence by both the Secret Service and New York Police Department, but the lobby remains open to the public as it provides access to a shopping mall.
The protest comes the same week US Attorney General, Jeff Sessions, announced reforms and guidelines to strengthen immigration laws with the rapid hiring of additional judges for detention centers on the US-Mexico border. The new measures also calls for increased penalties for those who re-enter the country – from a misdemeanor to a felony – and powers to detain any adult crossing the border.
The move comes as the Trump administration is considering spending $8 billion to $20 billion on a border wall along the 2,000 miles that separate the US and Mexico as a deterrent to illegal immigrant crossings, in addition to hiring 5,000 more border patrol officers.