'Unacceptable': Sacramento police to investigate cop who punched jaywalking suspect (VIDEO)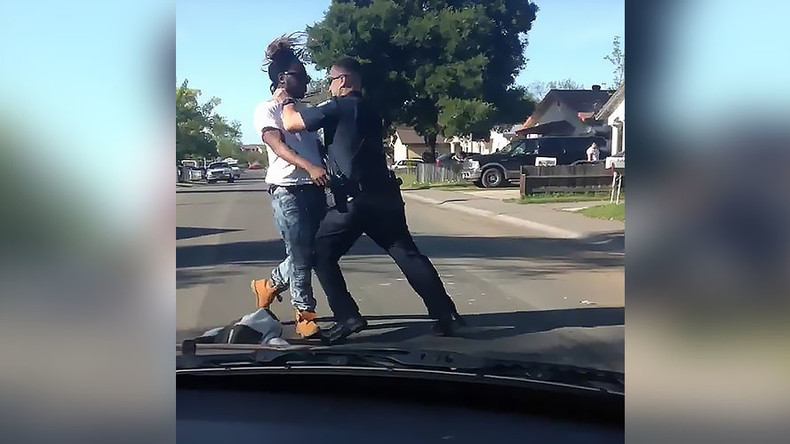 A violent confrontation between a police officer and a suspected jaywalker erupted in northern Sacramento, California. Facebook Live and cruiser dashcam videos of the incident are now primary evidence in a criminal investigation of the officer.
Nandi Cain, Jr. kept on walking and ignored commands to stop from a Sacramento police officer around 5:00pm Monday, when the officer accused him of jaywalking, KCRA reported.
"Hey, can I talk to you real quick, bud? Can you come here please? Come here, bud," the officer is heard saying in a dashcam video released by the Sacramento Police Department. SPD voluntarily released the recording, but chose not to reveal the officer's name, only that he'd been on the force for two years.
"You're jaywalking," the officer is heard saying, to which Cain responds, "I looked both ways."
An argument began on a sidewalk and spilled out into the street of a residential area, where Cain, standing a few feet away from the officer, alludes to the officer's gun and says, "I don't have nothing" before removing his jacket and standing with his hands open and arms to his sides.
"If you a real man, you can put your gun away, and you can fight me like a real man if that's what you want to do," Cain says.
At that point, the officer charges Cain, taking him down to the ground by his neck. A car that had stopped close to them temporarily obscures the view of the dashcam, but moments later the car veers right and the officer is seen repeatedly punching Cain before radioing to his dispatch, "I'm in a fight."
The officer throws at least a dozen punches, and Cain appears to be blocking or returning punches while being pinned on his back. Moments later, backup arrives, and other officers assist in handcuffing Cain.
"Why could you not just comply?" a voice is heard saying.
Cain was booked into jail for resisting arrest, but SPD dropped that charge the next day.
A Facebook Live video uploaded by Naomi Montaie was also reviewed along with police dashcams, which the department said revealed "unacceptable conduct" on the officer's part.
"It's a disturbing incident. Based on the video, we don't condone this behavior with any of our officers," Sgt. Bryce Heinlein said. "We are much better than that. We hold ourselves to a very high standard."
The officer was placed on administrative leave before a criminal investigation was announced Tuesday. The investigation, once completed, will be handed over to the Sacramento County District Attorney's Office, which will make any decision to press charges against the officer.
"We're also reviewing our training to determine if our training starting from the academy level is still at a state and nationwide standard," Deputy Police Chief Mike Bray said.