Trump: Xi will get better deal from US if China solves North Korean problem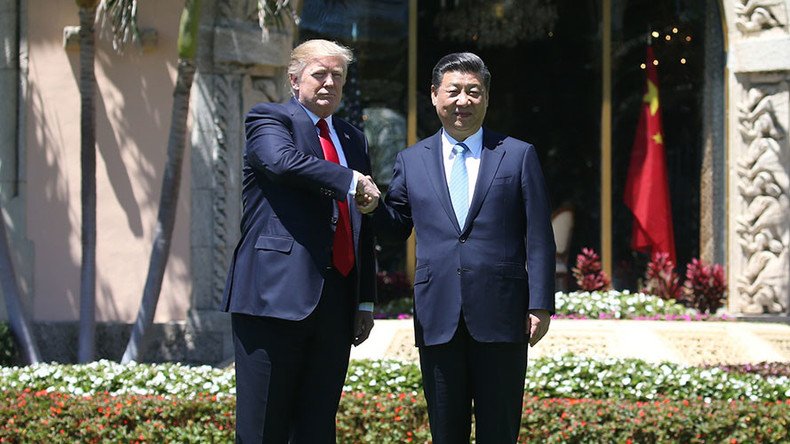 US President Donald Trump said he offered to make Chinese President Xi Jinping a better trade deal if China solves the "North Korean problem." He added that the US would solve it on its own, if necessary.
North Korea is looking for trouble. If China decides to help, that would be great. If not, we will solve the problem without them! U.S.A.

— Donald J. Trump (@realDonaldTrump) April 11, 2017
I explained to the President of China that a trade deal with the U.S. will be far better for them if they solve the North Korean problem!

— Donald J. Trump (@realDonaldTrump) April 11, 2017
It comes after Xi's visit to the US last week, in which the two leaders discussed numerous points of contention between the US and China. According to Reuters, after Xi's visit, Beijing ordered the coal trade with North Korea to be curbed, removing one of the few sources of foreign currency at Pyongyang's disposal.
North Korea is a significant supplier of coal to China's steelmakers. Beijing will reportedly compensate for the shortfall by buying more coal from the US.
Just after the Chinese leader's visit, the US unexpectedly deployed the USS Carl Vinson strike group towards the Korean Peninsula – the same week the US escalated its involvement in the Syrian conflict with the firing of 59 Tomahawk cruise missiles at a Syrian Air Force base in Homs Province. The two events sparked speculation that Trump may use military force against Pyongyang the same way it did against Damascus.
The group was redirected towards the Korean waters "as a prudent measure to maintain readiness and presence in the Western Pacific" the US Pacific Command said. Pyongyang threatened that "catastrophic consequences" would follow should the US launch a pre-emptive strike against North Korea.
READ MORE: US Navy strike group heads towards N. Korea over Pyongyang's 'nuclear threat'
Pyongyang has intensified its rocket tests and nuclear weapons development over the past few years, saying that it needed a nuclear deterrence against the US and its ally South Korea. The UN Security Council imposed several rounds of economic sanctions in response, but failed to deter North Korea.
Trump's threat to solve the problem with or without China, which has the most leverage on Pyongyang among the world's nations, is in line with his position prior to Xi's visit. The President Trump also accused China of unfair competition and stealing American jobs.
You can share this story on social media: