'Cross-dressers in the building': Oklahoma Capitol warned of LGBT student visit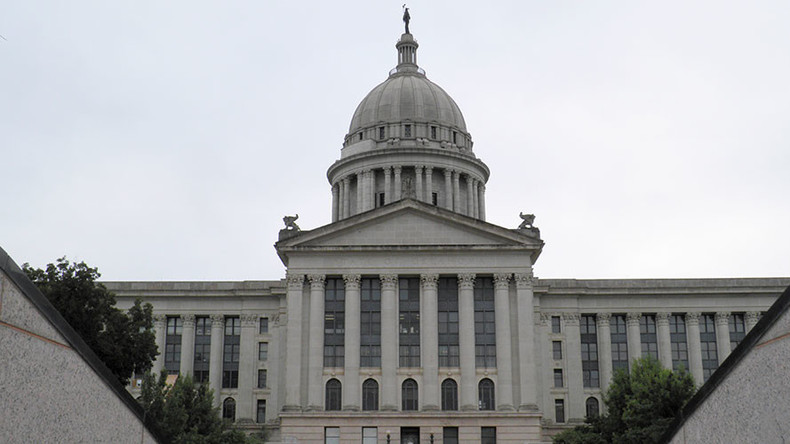 Rights groups are calling on staffers at Oklahoma's State Capitol to resign after an email warning lawmakers of visiting LGBTQ students began circulating through the building.
The Monday morning email appears to be sent by Karen Kipgen, an Oklahoma House staffer supervising the page program, who notified lawmakers that pages had been given permission to use the restrooms that were usually off-limits to them for the day.
"As per the Speaker's office, Pages are being allowed to access the ladies restroom across from 401, for today. again , there are cross-dressers in the building," Kipgen's email read.
The email was prompted by 70 students who were escorted to the capitol by Oklahomans for Equality, an LGBTQ rights advocacy group, to lobby for awareness and education on HIV/AIDS awareness day.
Toby Jenkins, who escorted the group, spoke with staff members and called for the speaker to resign in a video released by the group on Facebook. His confrontation begins about six and a half minutes into the Facebook Live.
"Never have I felt so unsupported," Pickles Lee, an 18-year-old senior who visited the capitol, told Tulsa World. "This email sort of escalated everything."
Speaker Charles McCall's (R-Atoka) office issued a statement immediately after the email was reported, refuting claims it was authorized by the speaker or any of his staff.
"I was unaware that such an email was being sent, and the remarks contained in the email are not condoned by me or the Office of the Speaker," the statement said, according to the Star Tribune.
"As Speaker, all Oklahomans should feel welcome in the Oklahoma Capitol building. We are looking into this matter, and it will be taken seriously."
The email sent today referring to transgender men and women as "cross dressers" DID NOT come from the Speaker's Office or at his direction

— OKHouseGOP (@GOPHouseOK) April 10, 2017
In response, Ryan Kiesel, Executive Director of the American Civil Liberties Union (ACLU) of Oklahoma, issued a statement, saying, "It is not enough to say that LGBTQ Oklahomans are welcome at the Capitol. Of course they are welcome at the Capitol. It is their building as much as it as any other Oklahomans'."
"Implying that young women may be unsafe in an environment simply due to the presence of LGBTQ and HIV/AIDS Activists is offensive and incredibly dangerous. Promoting fear and hysteria about some of Oklahoma's most marginalized communities is exactly the sort of behavior that leads to one of the most anti-LGBTQ environments in the nation," Kiesel wrote in a statement.
Troy Stevenson, executive director of Freedom Oklahoma, an advocacy group that works on behalf of LGBT Oklahomans, called the email "offensive."
"To single out one group of people, to call trans-Oklahomans cross-dressers is offensive in and of itself, and to have an employee speaking for the House staff and using language that clearly wasn't approved by the speaker's office is problematic," Stevenson told the Stillwater News Press.
Stevenson added that the email "opens up the state of Oklahoma to a lawsuit for bias."