Alabama governor resigns, avoids impeachment hearings over sex scandal, misuse of funds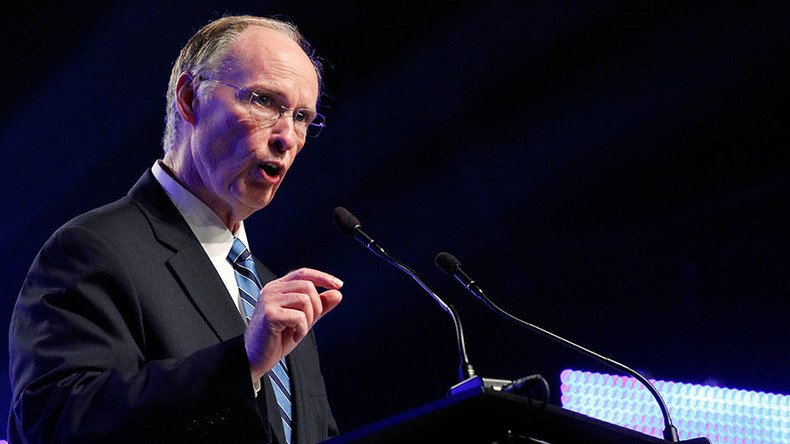 Alabama Governor Robert Bentley (R) has resigned ahead of impeachment hearings over alleged misuse of state resources and a sex scandal. The 74-year-old was booked into Montgomery County Jail on two misdemeanor charges, a result of a plea deal.
Bentley was charged Monday with two misdemeanors, the result of a plea deal to avoid felony charges. His bond was set at $300, according to the Alabama Media Group. The charges were one count of failure to disclose information on a statement of economic interest and failure to file campaign finance reports.
His resignation was confirmed in court in the form of a letter to Lieutenant Governor Kay Ellen Ivey, who will succeed Bentley to become Alabama's 54th governor.
As of 5:59pm local time, Bentley was anticipated to speak to the media at any moment.
At 6:11pm local time, Bentley addressed reporters, saying that being governor was a "calling that God placed on my life" and said that although he had "not always made the right choices or said the right things," he "always tried to live up to the high expectations."
"There have been times when I have let you and our people down, and I'm sorry about that," he said.
Bentley continued, "I'm leaving this office that I've held, that I've respected, that I've loved for seven years," in order to focus on "other forms of service."
"I have realized that there are things more important than political office," he added.
"I love this state and the people who live here, from the bottom of my heart. God bless you," he concluded.
At 6:00pm, Lt. Gov. Ivey was being sworn in as the new governor, according to a statement issued by her office under an updated letterhead.
After pleading guilty to his charges, Bentley was fined $2,000, which included court costs, ordered to reimburse campaign funds of more than $8,000 by next week, and ordered to surrender all $36,912.40 in campaign funds to the state, according to Jenn Horton of WSFA. The judge also reportedly assigned Bentley 100 hours of community service. The plea deal included that Bentley would never hold public office again.
Bentley steadfastly refused to resign as late as Friday, following a report from the Alabama House Justice Committee's report alleging Bentley used state law enforcement and other state resources to maintain a more-than-year-old relationship with his former aide Rebekah Caldwell Mason.
A judge blocked the impeachment hearings Friday, but the state supreme court reversed that decision on Saturday. Republican leaders have called on Bentley to step down.
Last year, an audio recording of Bentley having sexually suggestive conversations with Mason were leaked. Bentley always denied any physical relationship, but his wife filed for divorce in 2015.
Bentley was elected governor in 2010 and reelected in 2014.
READ MORE: Helicopter trip to fetch governor's wallet during marriage spat may cost taxpayers $4,000
You can share this story on social media: