'New strategy' on North Korea in the works after Trump meets Chinese president – Tillerson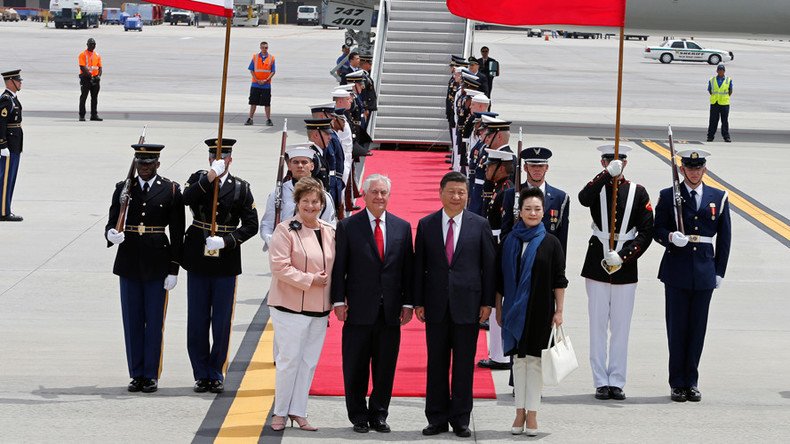 During their two-day summit, President Donald Trump and Chinese President Xi Jinping arrived at new agreements on North Korea, according to US Secretary of State Rex Tillerson.
After the summit at Trump's Mar-a-Lago estate in Palm Beach, Florida, Tillerson told reporters that Trump and Xi came to an agreement on North Korea. Xi also recognized North Korea's nuclear capabilities have reached a "very serious stage of advancement," the secretary of state said Friday, Reuters reported.
Leaders shared the view on #DPRK missile and nuclear programs that "this has reached a very serious stage of advancement."

— Steve Herman (@W7VOA) April 7, 2017
Xi agreed to increase China's cooperation with the US to pressure North Korea to end their nuclear program, Tillerson said.
During the second day of the summit, Friday, Trump said he developed an "outstanding" relationship with Xi and made "tremendous progress" on issues, according to the White House.
"We look forward to being together many times in the future. And I believe lots of very potentially bad problems will be going away," Trump said.
Xi said that the meeting helped the two leaders develop a "deeper understanding" and build trust between the two nations.
"I believe we will keep developing in a stable way to form friendly relations... For the peace and stability of the world, we will also fulfill our historical responsibility," Xi said Friday, according to Reuters.
At the summit, Xi urged the two nations to come to an agreement on trade and investment, telling Trump that they should promote "healthy development of bilateral trade and investment," according to Reuters.
After the meeting, Trump and Xi walked around the grounds of his Florida resort and had a working lunch before Xi's motorcade left the resort on Friday.
Tillerson also said that Trump accepted Xi's offer to make a state visit to China in the future.
"We have a thousand reasons to get China-US relations right, and not one reason to spoil the China-US relationship," Xi told Trump, according to Reuters.
Tillerson outlined a "new strategy" in coordination with China on Thursday.
"We're hopeful that China will find ways to exercise influence over North Korea's actions to dismantle their nuclear weapons and their missile technology programs," the secretary of state said. "Whether it's using their authority on the UN Security Council or utilizing new levers of power, China can be part of a new strategy to end North Korea's reckless behavior and ensure security, stability, and economic prosperity in Northeast Asia."
You can share this story on social media: