Russians 'not our friends' says GOP Senate leader, praising Syria strikes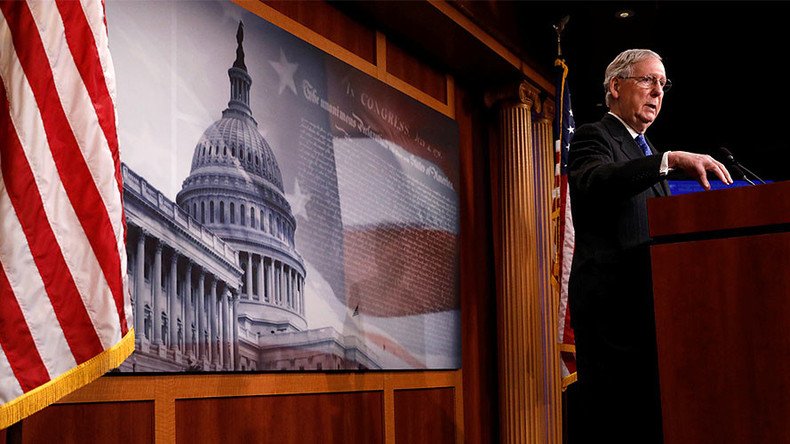 Senator Majority Leader Mitch McConnell (R-Kentucky) praised President Donald Trump's "well-executed" strikes against a Syrian military airbase. He also called the Russians "not our friends" and shrugged off concerns about lack of congressional authority.
McConnell said the Trump administration didn't need to seek congressional approval for military strikes targeting the Syrian government, as the 2001 authorization passed in the wake of the September 11 terrorist attacks, and a 2002 authorization for the Iraq War, covered the strikes.
Quoting citizen Donald Trump in 2013: "The President must get Congressional approval before attacking Syria--big mistake if he does not."

— Senator Tim Kaine (@timkaine) April 7, 2017
"I don't know why anybody's confused," McConnell said when asked about broader strategy behind the Syria strikes. "You don't use chemical weapons without consequences. That's a pretty clear message. I don't necessarily read into it a larger strategy in the area."
McConnell said the strike was simply a message to the Syrian government, "don't use chemical weapons again."
Asked by reporters about whether he would urge Trump to consider more sanctions on Russia if it continues to help the Assad government and beef up its air defenses, McConnell said additional sanctions would require bipartisan support.
"The Russians are not our friends," he added. "I think they have demonstrated that over and over and over again."
READ MORE: 'US was not attacked': Strike on Syria divides US lawmakers in both parties
Lawmakers from both parties have expressed support for the strike but asked the Trump administration to consult more closely with Congress on any next steps in Syria.
The administration is expected to meet with senators in a closed-door briefing later on Friday.
You can share this story on social media: