Trump 'develops friendship' with Chinese president at Mar-a-Lago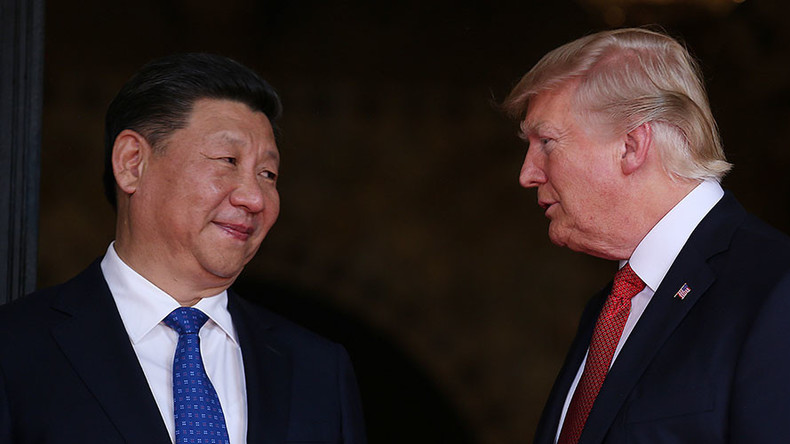 President Donald Trump welcomed Chinese President Xi Jinping to his Florida home for a two-day summit, where the leaders will have a series of discussions on North Korea, trade policies and more.
In their first face-to-face meeting, Xi and Trump met at Mar-a-Lago, Trump's estate in Palm Beach, on Thursday. Trump had told reporters on Air Force One that he would be focusing their talks on North Korea and trade.
READ MORE: Best of frenemies? Trump & Xi to tackle trade, military tensions in 1st meeting
Trump repeated that he would be willing to act unilaterally to rein in North Korea, but said that he thinks "China will want to be stepping up" to help the US, according to the White House.
A week ahead of the meeting, Trump tweeted that the subject of trade with China would make for a "very difficult" meeting because of the "massive trade deficits."
The meeting next week with China will be a very difficult one in that we can no longer have massive trade deficits...

— Donald J. Trump (@realDonaldTrump) March 30, 2017
After arriving at the resort, the leaders were joined by their wives at a long table for dinner, where Trump joked with reporters about their progress, saying: "We've had a long discussion already, and so far I have gotten nothing, absolutely nothing."
"We have developed a friendship," Trump added. "I think long term we are going to have a very, very great relationship and I look very much forward to it."
Trump also brought many of his top advisers to the meeting, including Secretary of State Rex Tillerson, who spoke with reporters at Palm Beach International Airport after greeting Xi. Tillerson said that Trump would be having "very frank discussions" with Xi over North Korea and trade.
"China can be part of a new strategy to end North Korea's reckless behavior and ensure security, stability and economic prosperity in Northeast Asia," Tillerson said, according to the Washington Post.
Xi was scheduled to say in Florida until Friday afternoon, with the Chinese delegation staying at a nearby hotel instead of the resort.