Dems angry as Senate GOP uses 'nuclear option' to advance Gorsuch confirmation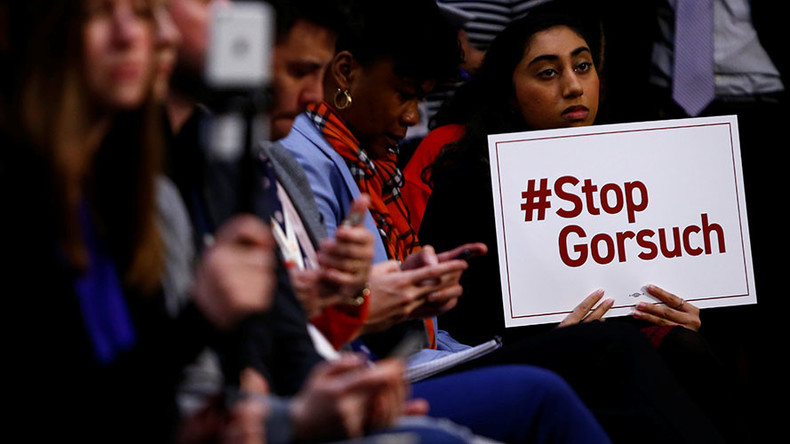 Opposition lawmakers expressed outrage after Senate Republicans voted to change the upper chamber's procedural rules to allow the confirmation of Judge Neil Gorsuch ‒ and those of future Supreme Court justices ‒ to pass with a simple majority vote.
Senate Majority Leader Mitch McConnell (R-Kentucky) broke with decades of tradition Thursday by changing Senate rules and bypassing the first-ever successful opposition to a Supreme Court nominee.
Read more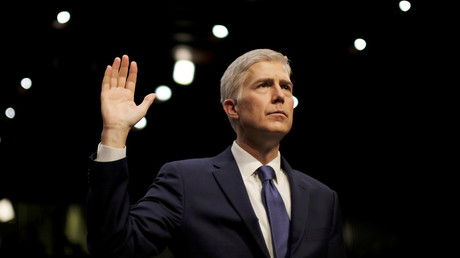 Gorsuch, President Donald Trump's pick, embraced by conservatives, failed to receive the 60 votes necessary to end debate on his nomination, a procedure known as cloture, and move to a simple majority confirmation vote in the 100-seat Senate.
McConnell blamed Democrats for his decision to apply the "nuclear option," whereby votes now for Supreme Court nominees only have be to approved along party lines in the Republican-controlled Senate.
With that, the Senate voted once again to advance Gorsuch's nomination, and Republicans were able to achieve success with a vote of 55 to 45.
Lawmakers opposing Gorsuch's nomination were quick to express their outrage over the rule change, among them Senate Minority Leader Chuck Schumer (D-New York).
Schumer said he took "no solace" in blaming his political rivals because the consequences of the change will be so dramatic.
"The nuclear option means the end of a long history of consensus on Supreme Court nominations," he said ahead of the vote, describing the Senate's ability to use the 60-vote threshold as "the guardrail of our democracy."
"The answer is not to undo the guardrails, the rules. It's to steer back to the middle, and get a more mainstream candidate."
Most Democrats remain livid with Republican leaders for refusing to even hold a confirmation hearing for Judge Merrick Garland, whom President Barack Obama nominated last year to fill the Supreme Court seat of conservative Justice Antonin Scalia, who died in February 2016.
Senator Bernie Sanders (I-Vermont) said he was deeply disappointed that Republicans pushed their nominee with fewer than 60 votes.
"A lifetime appointment to the Supreme Court should be done in a bipartisan way, but unfortunately Mitch McConnell chose to do it in an extremely partisan manner," Sanders said in a statement.
Sanders did not support the Gorsuch nomination because he considered the judge to be part of an "extreme right-wing majority that will attack workers' rights, women's rights and environmental protection as well as make our political system less democratic."
During the nomination process that Gorsuch had failed to share his views, refused to answer legitimate questions and "brought the confirmation process to a new low in a thick fog of evasion," Sanders said.
Some Republicans, such as Sen. John Cornyn (Texas), argued that changing the rules simply restored the Senate to an era when filibusters of judges were rare.
Sen. Richard Blumenthal (D-Connecticut) warned of the "enduring fallout and rippling repercussions" of the move.
"Sadder than anything is the damage caused to two pillars of democracy: the Supreme Court and the Senate itself," he said in a withering post-vote statement. "Respect and trust for the Court – so essential for the practical force of its rulings -– has been gravely undermined by raw political conflict."
Sen. Ron Wyden (D-Oregon) went on a Twitter tirade to express his dissent.