Bannon no longer on Trump's National Security Council - report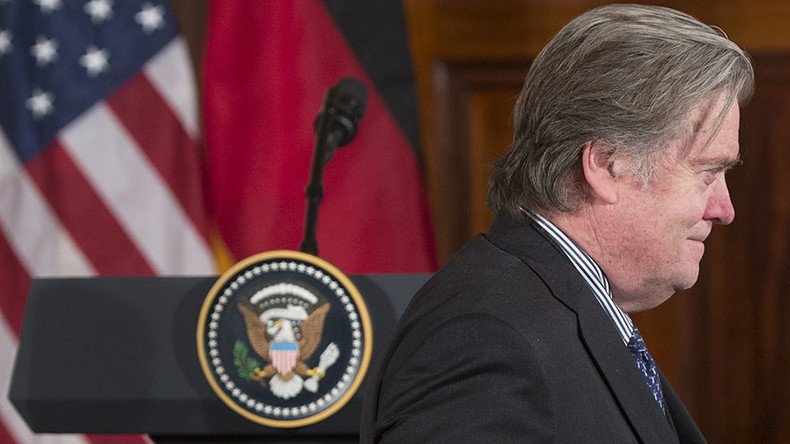 President Donald Trump has reorganized the National Security Council, and his Chief Strategist Stephen Bannon is apparently no longer on the Principals Committee, according to a memo that has surfaced.
Bloomberg has posted a memo from Trump, dated April 4, reorganizing the National Security Council and updating the list of officials who sit on its Principals Committee. The document shows no role for Bannon and a reduced role for Homeland Security Adviser Tom Bossert.
Director of National Intelligence Dan Coats and chairman of the Joint Chiefs of Staff, Marine General Joseph Dunford, are again considered "regular attendees" of the principals committee.
In addition to Trump and Vice President Mike Pence, the regular attendees will be the secretaries of State, Treasury, Defense, Energy, Homeland Security and the Attorney General; the national and homeland security advisers; and the US envoy to the UN, as well as the CIA director, in addition to the Joint Chiefs chair and the DNI.
The White House chief of staff, counsel and deputy counsel for national security, and the director of the Office of Management and Budget are also invited to attend any NSC meeting, the memo says.
"Susan Rice operationalized the NSC during the last administration. I was put on to ensure that it was de-operationalized," Bannon said in a statement to the Wall Street Journal.
"General McMaster has returned the NSC to its proper function," he added.
"This memorandum shall supersede all other existing Presidential directives and guidance on the organization or support of the NSC and the HSC, including National Security Presidential Memorandum – 2 (January 28, 2017), which is hereby revoked."
The January memo placed Bannon at the NSC as the "White House Chief Strategist," a post created by Trump for the former Breitbart News executive who guided his campaign across the finish line. There is no mention of Bannon's office in the new memo.
You can share this story on social media: