NYet: Empire State Building lights up for UNC instead of St. Petersburg bombing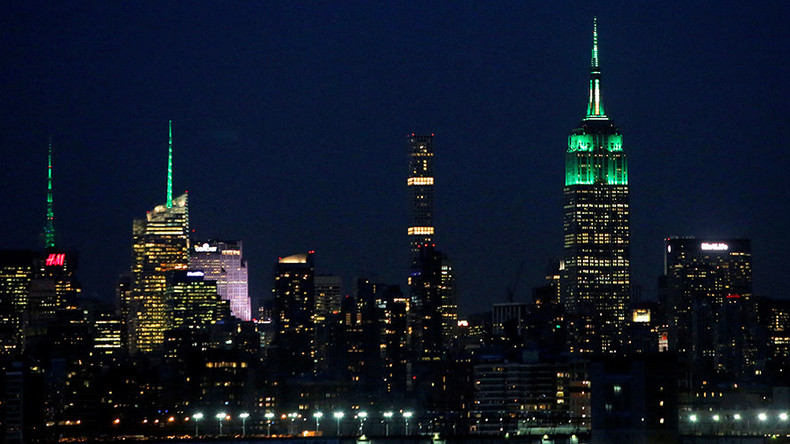 When terrorism tragedy strikes a European or American city, there is a global outpouring and illuminated landmarks go dark. When 14 people were killed and 49 injured in the St. Petersburg Metro, the lights on the Empire State Building stayed on.
Monday was a national college basketball final in the US when millions of Americans were glued to their screens, and the global landmark, the Empire State Building, was brightly lit in blue for the winners.
The game was the final slugfest in the National Collegiate Athletic Association calendar between the University of North Carolina with its Tar Heels team and the Washington state Gonzaga University's Bulldogs for the college basketball national championship.
Tar Heels won 71-65, bringing home their sixth title.
There is an open application on the Empire State Building for a Tower Lighting request. Applicants can choose their own colors and the date for the illumination, but it is not clear how the decision process works.
The website states the building is privately owned and "has its own selection review procedures and policies, and has sole discretion over what lightings are and are not approved. Its ownership may change those policies at any time without notice."
The form states an applicant will receive a written notification stating whether an application is approved or denied.
"The Empire State Building is under no obligation to provide specific feedback to any individual or organization regarding the status, merit and/or denial of its application," the page states.
There was no information to indicate whether the building's owners make the decision for the landmark to go dark or if it comes as a political request.
RT called the Empire State Building for comment but calls were not returned before deadline.
In recent years, the Empire State Building commemorated victims of European terrorism attacks by going dark.
Going dark for Nice, France victims


After attacks in Brussels
Lights out after attacks in Paris
Dark again after the mass shooting in Orlando