AG Sessions requests delay in Baltimore police reform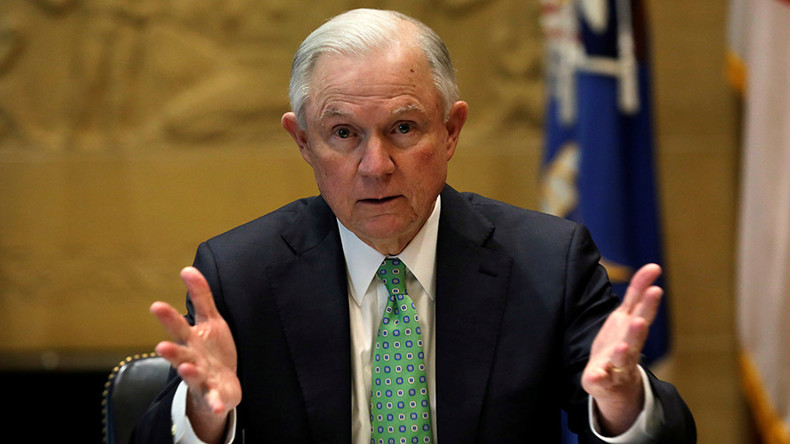 The US Justice Department is asking a federal judge for more time to review the Baltimore Police Department as part of its relationship with local law enforcement under President Donald Trump's new policies.
On Monday, the Department of Justice (DOJ) filed a motion requesting a 90-day pause to "review and assess" a proposed agreement to reform the Baltimore Police Department (BPD).
New tonight: DOJ requests an additional 90 days to finalize its consent decree w the Baltimore Police Department -- sign of things to come pic.twitter.com/LBGNQh3YW1

— Betsy Woodruff (@woodruffbets) April 3, 2017
In January, the DOJ announced an agreement with the Baltimore PD on a court-enforceable consent decree filed with the US District Court for the District of Maryland.
The announcement came after a 2015 investigation into the department found police were engaging in "a pattern or practice of conduct that violates the First and Fourth Amendments of the Constitution as well as federal anti-discrimination laws."
The Obama-era investigation found Baltimore PD was conducting unconstitutional stops, searches and arrests, disproportionately targeting African Americans, using excessive force, and retaliating against individuals for engaging in constitutionally-protected expression.
The agreement also called for an independent federal monitor to observe the Baltimore PD and assess whether the requirements of the agreement were being implemented.
The proposed reforms were designed to "help ensure effective and constitutional policing, restore the community's trust in law enforcement, and advance public and officer safety," according to former Attorney General Loretta Lynch.
On Monday, Attorney General Jeff Sessions made the continuance request days before a hearing was scheduled in US District Court in Baltimore.
The DOJ cited several reasons for the continuance, including "several new initiatives and policies that prioritize combating and preventing violent crime" that have been issued since Trump took office.
The DOJ cited an executive order issued by Trump that would create "a Task Force on Crime Reduction and Public Safety," which directs the DOJ to "take the lead on Federal actions to support law enforcement efforts nationwide and to collaborate with State, tribal, and local jurisdictions to restore public safety to all of our communities."
The motion was filed only hours after Sessions released a two-page memo, in which he directed his staff to review all the investigations, prosecutions, training and existing compliance reviews between the department and local law enforcement agencies.
MEMO from AG Jeff Sessions seeking to review all existing (Ferguson) or contemplated (Baltimore, Chicago) police reform agreements. pic.twitter.com/KjVitOfpDq

— Paula Reid (@PaulaReidCBS) April 4, 2017
The memo declares the DOJ "will use its resources to effectively promote a peaceful and lawful society, where the civil rights of all persons are valued and protected," and "the misdeeds of individual bad actors should not impugn" the work police officers perform "in keeping American communities safe."
Sessions says the review is necessary for ensuring no reform agreements undermine the Trump administration's goals of promoting police officer safety and morale while fighting violent crime.
However, Vanita Gupta, who ran the Justice Department's Civil Rights Division under former President Barack Obama, says the sweeping review "signals an alarming retreat away from ensuring that police departments engage in constitutional policing."