Half of car crashes involve people distracted by mobile phones – study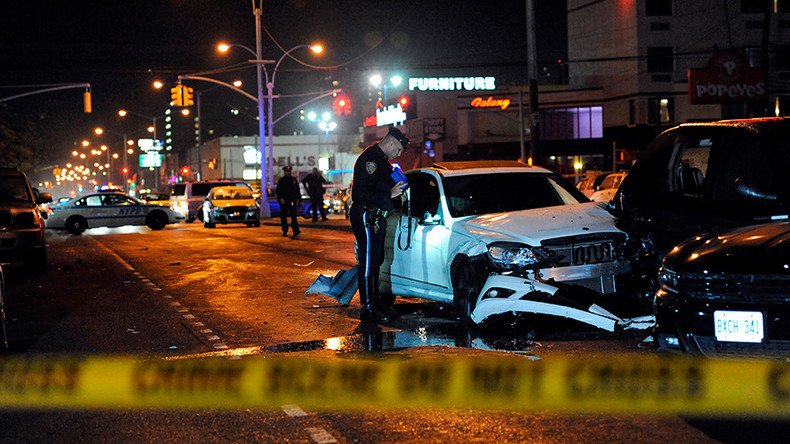 Driving data of more than 100,000 vehicle operators show that half of car crashes involved a driver distracted by a phone at some point in the trip, while one in four drivers used a phone within a minute of a crash, according to a new study.
In coordination with Distracted Driving Awareness Month, Cambridge Mobile Telematics (CMT) released a study on Monday underscoring that phone distractions are a major source of dangerous driving and car wrecks in the US. The company creates mobile apps that measure driving behavior.
One in four drivers who crashed were using a phone during or mere moments before the accident, CMT said.
Meanwhile, distracted driving occurred at some point during 52 percent of car trips that resulted in a crash, CMT's study found.
"This is a big problem for drivers and bikes and pedestrians," said Hari Balakrishnan, chief technology officer of CMT, according to the Chicago Tribune. "It's a fairly dominant factor in determining whether you have a crash."
The alarming statistics revealed in the study come as the number of traffic fatalities have jumped by 14 percent since 2015, the largest two-year increase in the US in five decades, according to the National Safety Council.
The CMT study involved data of more than 100,000 drivers over 18 months. During driving trips that resulted in a crash, the average length of distraction was 135 seconds. Phone distraction occurred for two minutes or more during 20 percent of distracted drives, CMT said.
The top 10 percent of distracted drivers are 2.3 times more likely to be in a crash than the average driver, and 5.8 times more likely than the least distracted of drivers, CMT found.
Furthermore, CMT said laws that seek to curb phone use among drivers are "only marginally effective," and "that states with anti-cellphone laws have only slightly safer drivers than those that don't."
The study found the average duration of phone distraction per 100 miles of driving is 3.17 minutes for drivers in states with laws against all handheld devices; 3.25 minutes for states with laws against handheld devices for drivers under the age of 18; and 3.82 minutes for states with no laws that address handheld devices among drivers.
While phones seem to be a major part of increased danger on the road, Balakrishnan said "smartphones hold the solution to the problem they created. Drivers now have access to tools that analyze their driving and achieve real behavioral change through immediate and ongoing feedback." The company said its telematics apps can help reduce distracted driving.
Last week, phone use by drivers was blamed in part for the rising death toll of pedestrians killed by motorists in the US. Pedestrian deaths reached nearly 6,000 in 2016, the largest number in more than two decades, according to the Governors Highway Safety Association.
Though phone distractions are not the definitive reason for the spike in pedestrian deaths, the author of the GHSA report said it is the likely culprit.
"It's the only factor that that seems to indicate a dramatic change in how people behave," said Richard Retting, safety director for Sam Schwartz Transportation Consultants.
You can share this story on social media: