Marvel caught in 'diversity' storm over flagging sales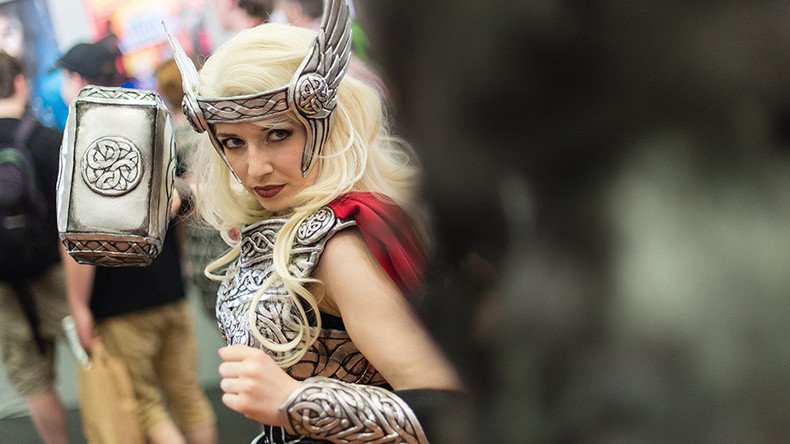 Marvel Comics executives said the company will step back from politics and focus on storytelling after retailers complained that pushing "diversity and female characters" has hurt sales. The new heroes are not going away, however.
Retailers have blamed a massive slump in comic book sales in October-November 2016 on Marvel's politics, among other things. Following the annual retailer summit last week, the company's senior vice president of sales and marketing, David Gabriel, gave an interview to a pop-culture web magazine that has since landed him in hot water.
"What we heard was that people didn't want any more diversity. They didn't want female characters out there. That's what we heard, whether we believe that or not. I don't know that that's really true, but that's what we saw in sales," Gabriel told ICv2.
Marvel was acquired by Disney in 2009, and has made millions on movie adaptations featuring Captain America, Iron Man and the other Avengers, as well as Guardians of the Galaxy. Comic-book sales, however, crashed about six months ago.
The industry "changed on a dime" in October last year, Gabriel said. "There was definitely a sort of nose-turning at the things that we had been doing successfully for the past three years, no longer viable."
Over the past several years, Marvel has changed a number of their legacy characters, from introducing a female Thor and a female African-American Iron Man, to making Spiderman biracial and Ms Marvel a Muslim teenage girl.
Ms Marvel author G. Willow Wilson slammed the critics of diversity as "Riders of the Brohirrim" and said the problem was not with diversity, but that "launching a legacy character by killing off or humiliating the original character sets the legacy character up for failure."
Speaking with the retailers, Marvel editor-in-chief Alex Alonso acknowledged that the company was part of a "discussion" about diversity in popular culture, and brought up the recent Academy Awards and Disney movies, as well as a story of his Korean nephew, who was both thrilled and terrified that the new Hulk was Korean.
"But Marvel is not about politics. We are about telling stories about the world," Alonso said.
Gabriel has since offered a clarification, saying that the any number of things could have contributed to the sales slump, and that the new heroes aren't going anywhere.
"We are proud and excited to keep introducing unique characters that reflect new voices and new experiences into the Marvel Universe and pair them with our iconic heroes," he told ICv2. "We have also been hearing from stores that welcome and champion our new characters and titles and want more! They've invigorated their own customer base and helped them grow their stores because of it."
The only upcoming change is "to ensure we don't lose focus of our core heroes," Gabriel added.
New heroes do bring in a "different demographic," for which he is grateful, one retailer told ICv2, but they still "don't sell the numbers that I would like."
But they were popular among that critical 18-22 yr old SJW comic book fan demographic. Oh, wait! Those don't exist! https://t.co/BArgKzrZRM

— Jordan B Peterson (@jordanbpeterson) April 3, 2017
Another noted a 80-90 percent drop in sales from the first to the second issue, adding that "to me that says that there is so much product out there that people are willing to dip a toe in, but they're not willing to stay."
Other retailers quoted by the magazine did point to political content and social justice activism as hurting sales, however.
"When you talk about the Academy Awards, and how that was a prime topic, I look at the cold, hard reality, and I'm in business," said one retailer. "A lot of those movies, or other things in other media, aren't really big money makers. For me, I care more about whether I'm going to sell it or not."
"I don't want you guys doing that stuff," another retailer said. "I want you to entertain. That's the job." He added that a customer who knew he was headed to the summit even told him "he wants to get stories and doesn't mind a message, but he doesn't want to be beaten over the head with these things."
You can share this story on social media: