Trump rally stormed by anti-fascist demonstrators in Washington State, arrests made (VIDEOS)
Published time: 3 Apr, 2017 14:06
Edited time: 4 Apr, 2017 09:00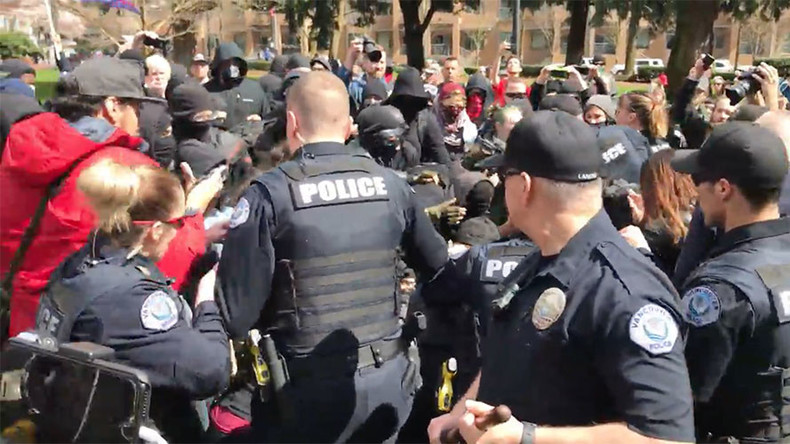 A pro-Trump rally in Washington State resulted in multiple arrests after anti-fascist protesters stormed the event, with some throwing smoke bombs into the crowd.
The 'Rally for Trump and Freedom' event at Esther Short Park in Vancouver, Washington, was open to local Trump supporters and Republican representatives, according to KATU news.
Despite the organizers' wishes, the event was also attended by anti-Trump demonstrators, many of whom referred to themselves as anti-fascist, or Antifa, protesters.
Some of the protesters were dressed in all black and wearing masks to cover their faces. Many shouted slogans including "Black Lives Matter!" and "No Trump, No KKK, No Fascist USA!"
One group of protesters lit a Trump-Pence campaign flag on fire, according to the Columbian.
READ MORE: Pro-Trump female protester has hair set on fire (VIDEO)
Scuffles broke out between the two sides, with some of the anti-Trump protesters tossing smoke bombs into the crowd.
At one point, anti-fascist protesters reportedly attempted to jump fencing that had been set up by police, leading to more scuffles which were broken up by officers.
Vancouver Police Lieutenant Greg Raquer told the Columbian that around 10 people had been arrested as of Sunday evening. They were detained for reasons including violating park rules and refusing to obey police orders. Another may have been arrested for assault, he said.
Meanwhile, Vancouver Police Lieutenant Tom Ryan told KATU that officers had "made a handful of arrests" for fighting and throwing smoke bombs, but said he did not know exactly how many were arrested.
READ MORE: Violence erupts in California beach town as Trump supporters clash with protesters (PHOTOS, VIDEOS)
Ryan said that most of those arrested appeared to be anti-Trump demonstrators. Footage of from RT's Ruptly news agency shows police handcuffing the protesters and pushing some to the ground. One officer can be seen breaking up an argument between an anti-Trump demonstrator and a man wearing a 'Make America Great Again' cap.
Despite the violence, the Columbian reported that the event was relatively calm compared to recent rallies held in the area.