Atlanta I-85 collapse creates headache for 250,000 commuters
Published time: 31 Mar, 2017 18:09
Edited time: 1 Apr, 2017 16:06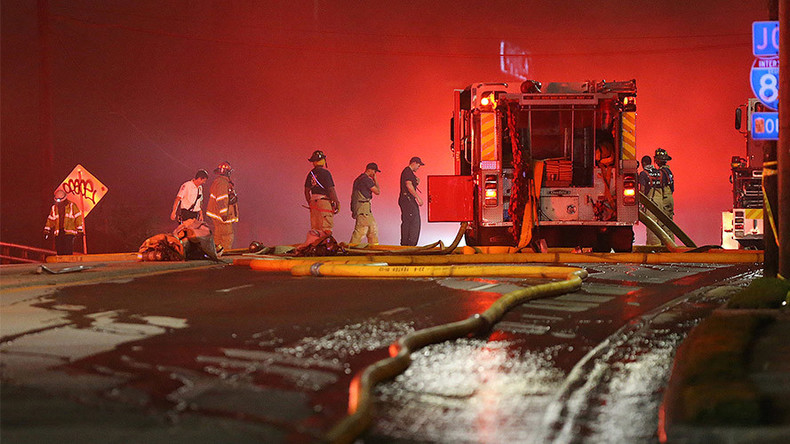 Georgia Transportation officials are scrambling to cope with a crisis after a huge fire caused a bridge on Interstate 85 to collapse. Morning commuters were bumper-to-bumper finding alternative routes, while fire investigators remain at the site.
Governor Nathan Deal has declared a state of emergency and drivers are being told to find alternatives to the heavily used road, which is closed in both directions.
"It's going to take a while for everybody to adjust to this – what is the new normal," Georgia State Patrol Commissioner Mark McDonough told WABE radio. He acknowledged that other highways will be "slammed" with traffic.
The bridge collapse, he said, effectively "puts a cork in the bottle."
An elevated section of Interstate 85, a major north-south artery for the Southeast, collapsed Thursday evening in Atlanta after a massive fire started underneath, officials said.
Cortez Stafford, a spokesman with the Atlanta Fire Department, said a unit was returning from another fire when it saw heavy smoke coming from under I-85.
"There was a 40-ft or higher wall of fire. Power lines were falling and arcing heavily and falling in the streets," Stafford told CNN.
The elevated span of highway, estimated to be 75-100ft long, collapsed at about 7pm as crews battling the fire got out of danger.
The shutdown affects a roughly 3-mile portion of I-85.
All five lanes of the highway in each direction were blocked, according to officials.
WABE's Lisa George told NPR's Newscast unit: "What appear to have been plastic pipes stored under the highway caught fire; no one knows how yet. They burned for about an hour, sending black smoke into the air — and then the northbound lane of the interstate just fell. "
Georgia's top transportation official said there's no way to tell when the highway, which carries 250,000 cars day, can be safely reopened to traffic in either direction. On Twitter they posted a picture of a road sign which read 'Patience.'
Officials said they don't know what caused the fire or how long repairs will take. There were no injuries reported.
Officials tried to cushion the blow with delayed starts for government employees in a city known for its gridlock.
More are expected with the Braves' exhibition game against the New York Yankees happening Friday at SunTrust Park.
Atlanta's Fire and Rescue told commuters to stay away from I-85.