Las Vegas dust storm uproots trees, knocks down power lines & delays flights (PHOTOS, VIDEOS)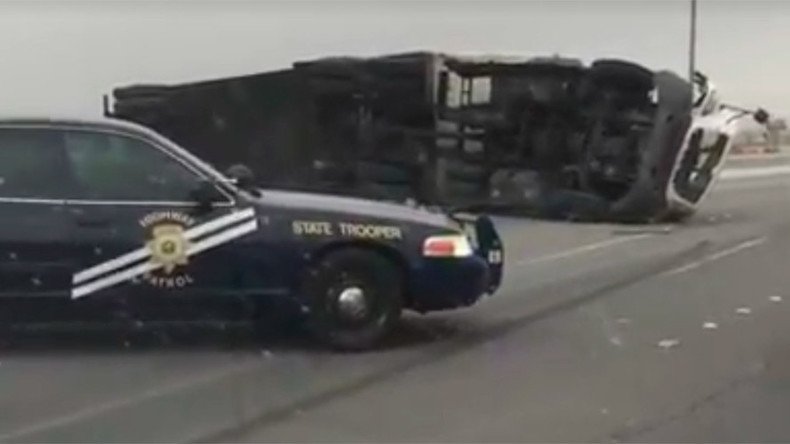 Roughly 40,000 people in the greater Las Vegas area have been left without power as a massive wind storm damaged power grids, knocked down street poles and trees, and caused major air and traffic disruptions.
High winds are being blamed for multiple scattered power outages affecting some 44,000 NV Energy customers in the Las Vegas area, local media reports.
Images from the gambling capital of the world show power poles damaged in the vicinity of the famed Las Vegas Strip, lined with its world famous casinos. Trees and streetlights have also been uprooted in the storm.
Officials have urged the public to stay indoors until the storm passes. Meanwhile, some people wrote that gusty winds of up to 70 mph overturned furniture in their backyards.
The adverse weather is also causing heavy traffic in the area, where the debris is preventing motorists from driving. The Regional Transportation Commission of Southern Nevada has issued a warning to motorists to avoid driving due to low visibility and blowing dust on valley roads.
The Northbound Interstate 15 was forced to shut down for about two hours after large lorries rolled over on the road.
High winds also caused flight delays at Las Vegas McCarran International Airport, forcing the air hub to temporarily place a brief hold on departures.
At least one person suffered a minor injury when a construction wall collapse inside the Monte Carlo Hotel-Casino, Fox 5 News Vegas reported.
A dust storm warning has been issued until 11 pm local time with a wind range up to 70 mph (110km/h).
You can share this story on social media: