13 dead, 2 injured in church van crash in Texas
Published time: 29 Mar, 2017 23:13
Edited time: 30 Mar, 2017 10:47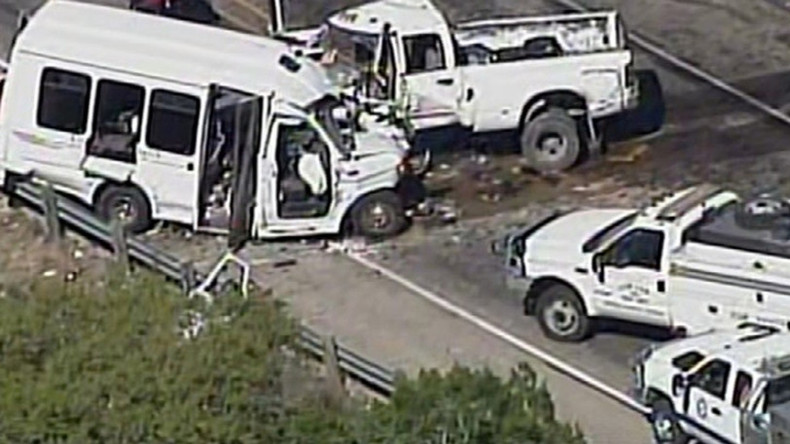 A horrendous head-on crash between a truck and a church van left 13 dead and two injured on a highway near Garner State Park, according to Texas' Department of Public Safety.
Previously it was reported that three were injured, but one of those victims died, the Bexar County Medical Examiner confirmed to KHOU. Among the 13 killed was the bus driver, Murray Barrett, a retired teacher, the San Antonio Express-News reported.
A First Baptist New Braunfels bus transporting senior citizens crashed outside of San Antonio, Texas leaving 13 dead and two injured, according to the Associated Press. The group was returning from a 3-day retreat when it was involved in a head-on collision with a pick-up truck.
The bus was carrying a total of 14 people while the pick-up truck had but the driver inside, AP reported.
Witness Rick Ballesteros of Uvalde told KABB, "It was a really gruesome scene."
Officials from Airlife, an air-based ambulance service, confirmed that two people were taken to University Hospital.
The bus passengers were members of the church's senior adults ministry. In a statement posted on their Facebook page, the First Baptist New Braunfels said the accident occurred at approximately 2:00pm on Wednesday, but "we have not received any official details from the local authorities."
Texas Governor Greg Abbott (R) released a statement, saying, "Cecilia and I extend our deepest condolences to the victims and the families of those involved in today's tragic event. We are saddened by the loss of life and our hearts go out to all those affected. We thank the first responders working on the scene in the wake of this unimaginable tragedy, and ask that all Texans join us in offering their thoughts and prayers."