Foggy Bottom blues: State Department suspends press briefings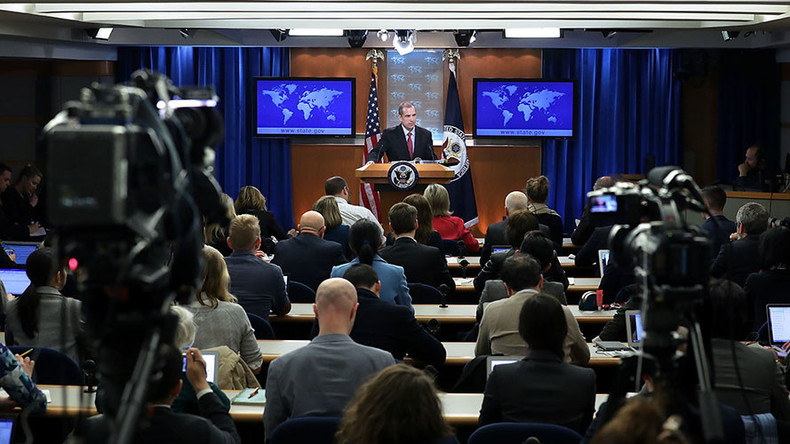 The US Department of State is off the air again as it seeks a permanent spokesperson. Gone are the daily press briefings of the Obama era, leaving many reporters at Foggy Bottom frustrated by Rex Tillerson's corporate management style.
Tillerson, a former Exxon Mobile chief executive, took only one reporter along on his first trip to Asia earlier this month. During the first six weeks of the Trump administration, the State Department didn't hold a single on-camera press briefing, only restarting the practice on March 7.
Acting spokesman Mark Toner delivered on-camera briefings twice a week for two weeks, alternating them with on-the-record telephone briefings. Toner, a foreign service professional, is now being transferred to another post, according to the Wall Street Journal.
The State Department said it would not hold video briefings for at least two weeks, but would brief reporters intermittently on specific topics. Monday's background briefing was about Tillerson's upcoming trip to Turkey.
Former Fox News anchor Heather Nauert is expected to become the department's new spokesperson, but she is reportedly awaiting approval of her security clearance.
The lack of press access taken for granted under the Obama administration has left some reporters frustrated with Tillerson and his agency.
On his first trip to East Asia, Tillerson declined to bring a pool reporter, opting instead to take along a journalist from the conservative outlet Independent Journal Review. The outlet published a profile on the secretary of state, but did not publish regular updates as pool reporters usually would.
In that profile Tillerson said he personally did not need media attention.
"I understand it's important to get the message of what we're doing out," the former Exxon Mobile CEO told the IJR, "but I also think there's only a purpose in getting the message out when there's something to be done."
Tillerson's post is considered the most important in the executive Cabinet, and there is a long tradition of secretaries keeping the press informed of US foreign policy objectives.
Under the Obama administration, the State Department continued the practice of taking questions on-camera on a nearly daily basis. The briefings are closely watched for public guidance on US policy by foreign officials as well as US diplomats around the world.
Cabinet secretaries with a private sector background need to understand they work on behalf of the people, according to Nikki Usher, a professor of media and public affairs at George Washington University.
"These offices have tremendous power and most people don't know what goes on in there," Usher told AP. "Corporate folks are used to not having to account for any kind of public conversations or talk to reporters with the exception of crisis communications or quarterly earnings calls with assessments of the health of their corporations."
Tillerson is still forming a team to help implement Trump's vision of an "America First" foreign policy. The Wall Street Journal reported last week that he and Trump have settled on John Sullivan as deputy secretary of state.