Couple sue Georgia over refusal to allow 'Allah' as child's surname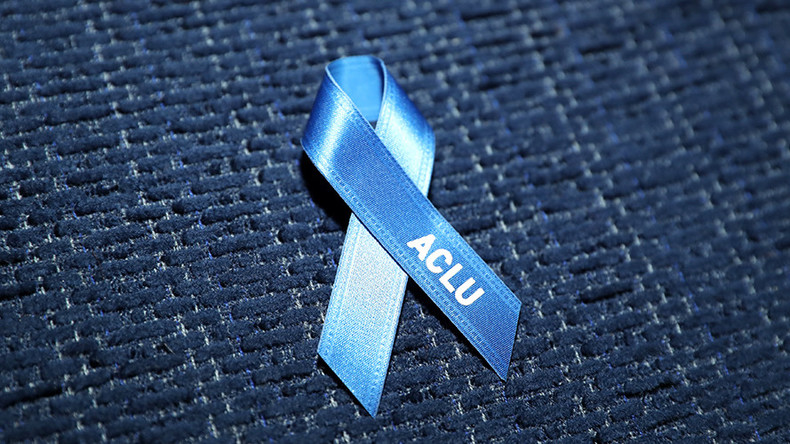 A Georgia couple are suing the state, with the help of the American Civil Liberties Union, over its refusal to allow the parents to give their 22-month-old child the last name "Allah."
The civil rights group filed the lawsuit in Fulton County Superior Court Thursday on behalf of the child's parents, Elizabeth Handy and Bilal Walk, who are claiming that Georgia officials are refusing to grant their daughter a birth certificate.
The couple say they're not eligible to receive health insurance or food stamps without a social security number for the child, which they cannot get without a birth certificate.
ZalyKha has an older brother, Masterful Mosirah Aly Allah, whose name was never questioned by government authorities, according to the lawsuit. The couple say they ran into trouble when they tried to legally name ZalyKha a year after she was born.
Georgia state law requires a baby's surname to be either that of the father or mother, according to the Atlanta Journal-Constitution, so officials are insisting the child, ZalyKha Graceful Lorraina Allah, be given the last name Handy, Walk or a combination of the two.
"Government has no business telling parents what they can and cannot name their children," said ACLU of Georgia executive director, Andrea Young, to AJC.
"Elizabeth and Bilal jumped through every bureaucratic hoop that's required to obtain a birth certificate for their daughter, but officials at the Department of Public Health refused to record the birth certificate with the name of their choice. "
The parents said ZalyKha's surname has no religious bearing and was chosen because it was "noble."
"Simply put, we have a personal understanding that we exercise in regards to the names," Walk said. "It is nothing that we want to go into detail about, because it is not important. What is important is the language of the statute and our rights as parents."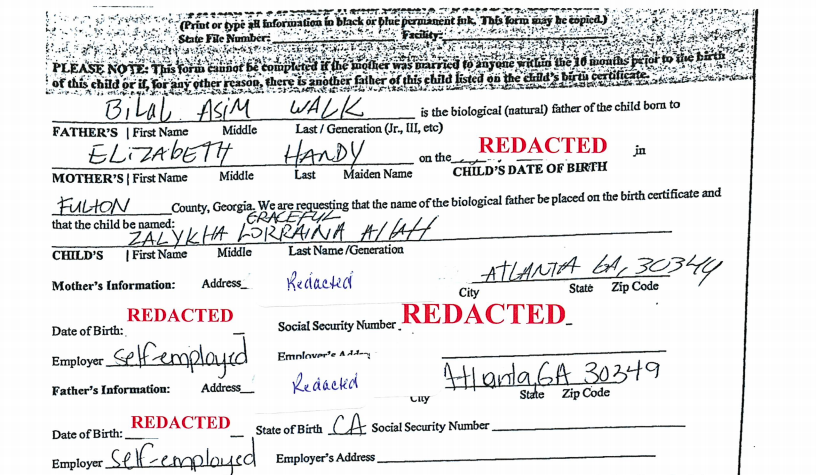 In a letter to the family, included in the lawsuit, the Department of Public Health suggests the parents register ZalyKha's surname as Handy or Walk to receive the child's birth certificate, and then petition the superior court to change the surname after the fact.
A former Georgia Superior Court judge, Jackie Patterson, said there is no legal standing for state officials to not issue a birth certificate for the child, especially if her sibling has the same name.
"There is not a single legal basis [for the rejection]. If they [the parents] tried to put a number or some obscenity, that would be understandable. There's no legal ground," Patterson told Fox 5 Atlanta.
READ MORE: Sex & surveillance: US assisted-living homes deny elders' right to intercourse, study says
State officials said it is their duty to stop parents who "seek to impose names upon their babies that range from bizarre to vile, and which would subject the child to ridicule," before citing some "examples of the types of names the state vital records departments must grapple with on a regular basis" including:
"Captain Fantastic Faster Than Superman Spiderman Batman Wolverine The Hulk And The Flash Combined," "R," "F*ck Censorship," "Satan," "Loser," "Zombie," "Tiny Hooker," "Toilet Queen," "Dracula," "Giant Pelvis," "Number 16 Bus Shelter," "Fish and Chips," "I'm A F*cking Moron," "Tula Does The Hula In Hawaii," and "Adolf Hitler."
The couple are hoping to get the matter resolved quickly as Handy is six months pregnant with their third child, reports GDP News.