Border searches of electronic devices prompt FOIA lawsuit against Trump administration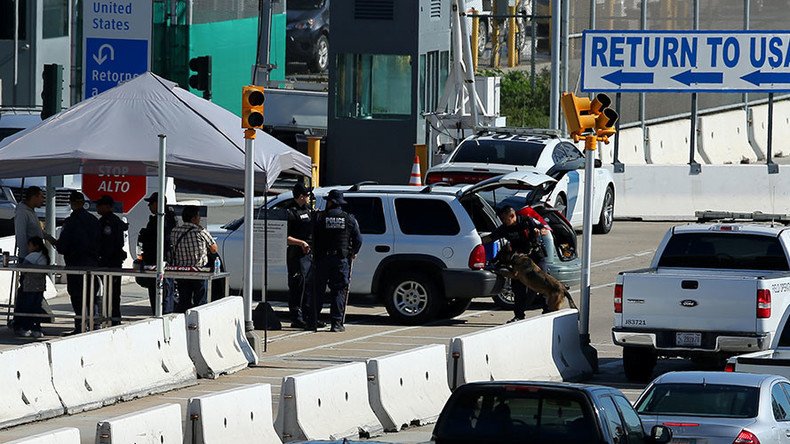 Dramatic increase in border searches of electronic devices prompt FOIA lawsuit against Trump administration
A group of First Amendment attorneys has filed suit against the federal government after a surge in electronic device data searches at US border crossings.
On Monday, the the Knight First Amendment Institute (KFAI) at Columbia University filed a Freedom of Information Act (FOIA) lawsuit against the Department of Homeland Security (DHS) and Immigration and Customs Enforcement (ICE), seeking "statistical, policy, and assessment records regarding the government's searches" involving electronic devices.
Our FOIA suit seeks a DHS database of border device searches, rules on searching journalists & civil rights audits. https://t.co/x9kkA8pj1w

— Knight 1st Amendment (@knightcolumbia) March 27, 2017
In a press release, the group states that they filed a FOIA request on March 15. When the request was ignored, they filed suit in US District Court for the District of Columbia to access the information.
The KFAI filed the request after Cynthia McFadden, senior investigative and legal correspondent at NBC News, released findings of a dramatic increase in American citizens who had their electronic devices searched at border crossings.
According to data provided by the DHS, the report found searches of electronic devices carried out by Customs and Border Patrol (CBP) agents grew five-fold in one year, from fewer than 5,000 searches in all of 2015 to nearly 25,000 in 2016. More devices were searched in February 2017 than all of 2015.
CBP agents were reportedly demanding phones, laptops and other electronic devices to be handed over as well as pin numbers and passwords to social media accounts. Some citizens were even asked about their religion and ethnic origins.
Mary Ellen Callahan, former chief privacy officer at the Department of Homeland Security called the increase in searches "shocking."
Callahan, who wrote the rules and restrictions on how CBP should conduct electronic searches back in 2009, says the increase "was clearly a conscious strategy, that's not happenstance," according to the press release from the KFAI.
With that information, agents have also been able to access emails, photos, text messages, and other personal and private information. Some agents have even made digital copies of the content on electronic devices.
These searches can be performed within 100 miles of the US border on anyone without any suspicion the person has done anything wrong. The agents can also hold electronic devices for five days without providing any justification.
The current policy has not changed since 2009. However, Jayson Ahern, who served in the CBP under both Bush and Obama, says that these types of electronic searches are meant to be performed on individuals with security concerns, and not as routine searches.
"That's reckless and that's how you would lose the authority, never mind the policy," Ahern said according to the report.
The First Amendment implications are a clear risk the activist group says.
The "fishing expeditions," as senior KFAI attorney Katie Fallow calls them in the release, "will make it more difficult for [journalists] to do the work we need them to do."
"These searches are extremely intrusive, and government agents shouldn't be conducting them without cause," Jameel Jaffer, executive director of KFAI, said. "Putting this kind of unfettered power in the hands of border agents invites abuse and discrimination and will inevitably have a chilling effect on the freedoms of speech and association."
You can share this story on social media: