VA urges 'hiring surge' to reduce backlog of veterans' benefit appeals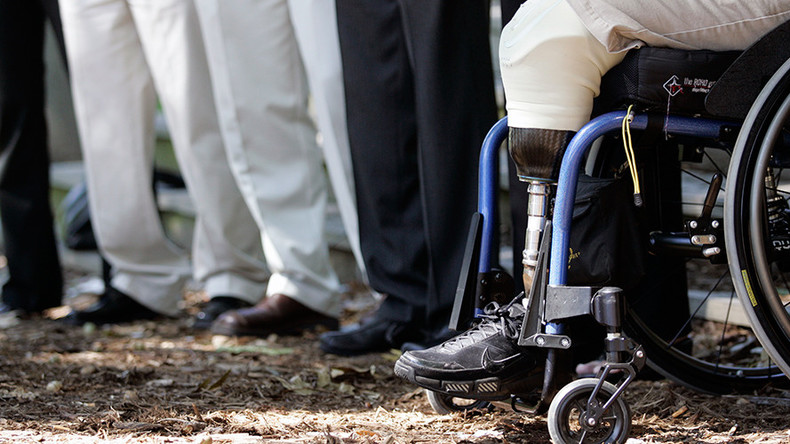 The Department of Veterans Affairs (VA) is warning the backlog for veterans appealing decisions involving disability benefits will grow if the Trump administration goes ahead with its harsh budget cuts. Waiting times could grow to as much as eight-and-a-half years.
A Government Accountability Office (GAO) report on Veterans Affairs Disability Benefits released on Thursday found staff resources at the agency had not kept pace with increased pending appeals, and concluded that additional staff were needed.
"As of October 2016, officials estimated that if the agency does not take any action, such as increasing staff in 2018, veterans may have to wait an average of 8.5 years by fiscal year 2026 to have their appeals resolved," the GAO said in its report.
In testimony to Congress this week, VA Inspector General Michael Missal said the Trump administration was proposing to carry over 2017 funding levels to 2018 for most VA discretionary programs.
Without the staff, the Veterans Affairs said the backlog could exceed 1 million with a decade.
Setting a goal to decide most appeals within one year by 2021, the VA set aside additional money in 2017 to boost full-time staff by 36 percent, or 242 people. It also estimated that a hiring surge of up to 1,458 more staff would be necessary in 2018, according to AP.
The VA compensates veterans for disabling conditions incurred in or aggravated by military service. It provides $63.7 billion in disability compensation payments each year to about 4.1 million veterans.
In the fiscal year 2015, more than 427,000 appeals were pending and veterans waited over three years on average for decisions.
"Of that total, about 81,000 were pending at the Board and the average cumulative time veterans waited for a decision by the Board in 2015 was almost 5 years," said the GAO.
Veterans Affairs said their workforce plan was dependent of the VA's annual budget appropriation.
The Trump administration's budget blueprint calls for a 6 percent increase in VA funding, mostly to pay for rising health costs to treat veterans. The VA is one of three agencies slated for more money amid big-time cuts to other domestic programs.
"These workforce shortages are deeply troubling," said Senator Jon Tester (D-Montana), the ranking member on the Senate Veterans Affairs Committee. "It's time we get these folks hired."
He was among a group of senators, including Richard Blumenthal (D-Connecticut), who reintroduced legislation on Thursday to overhaul the disability appeals system.
In the GAO report, auditors as a whole found the VA's staffing estimates sound, but cautioned that the government's second-largest agency needed a better plan to make sure additional staff are properly trained and have adequate office space.