No case against Kentucky 'drone slayer,' judge says
Published time: 24 Mar, 2017 16:56
Edited time: 25 Mar, 2017 10:38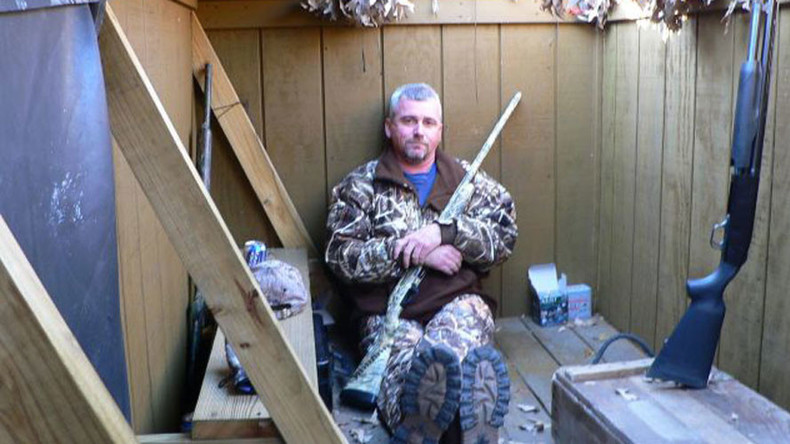 A federal judge has dismissed a lawsuit against a Kentucky man who shot down a drone flying over his property and dubbed himself a "drone slayer." The key issue in the case remains unresolved, however, and may move to a higher court venue.
William Merideth shot down a drone that he said was flying over his property in 2015, and later sold T-shirts with the phrase "drone slayer" printed on them. David Boggs, who piloted the drone, sued Merideth in federal court in Louisville for $1,500 in damages and asked for a decision on whether his activities qualified as trespassing.
US District Judge Thomas B. Russell dismissed the case this week, ruling that his federal court was not a proper venue for it, according to Ars Technica. Boggs had asked for damages under Kentucky state law, the judge said.
Boggs' attorney, James Mackler, had argued that the drone was regulated by the Federal Aviation Administration (FAA) and that the incident was relevant to federal law. The judge disagreed, saying that the FAA "has not sought to enforce any such regulations in this case," and that they would be "ancillary" to Boggs' claim to damages.
"We respect the judge's ruling and have to have a conversation with our client about an appeal," Mackler told Ars Technica, noting his client was "disappointed" by the decision.
READ MORE: Man vs. machine: New shotgun shell being marketed for shooting down drones
"This remains an extraordinarily important issue for the commercial and hobby issue," Mackler added. "We desperately need clarification from this issue and that has to come from the federal level. Drones are continuing to be shot down."
Mackler and Boggs have not yet decided if they will file an appeal. They could ask Russell to reconsider the ruling, or take it up to the 6th US Circuit Court of Appeals.
US laws and regulations have struggled to catch up with the recent proliferation of commercial and hobbyist drones. Current FAA regulations restrict commercial and hobby drones to altitudes below 400ft (122 meters) and require them to be in the operator's line of sight.
The current precedent for asserting property rights over one's airspace relies on the 1946 Supreme Court case United States v. Causby, which allowed a farmer in North Carolina to claim rights up to 83ft (25 meters) in the air.