Oklahoma lawmaker defends anti-abortion bill, arguing rape & incest are 'will of God' (VIDEO)
Published time: 24 Mar, 2017 16:06
Edited time: 25 Mar, 2017 10:38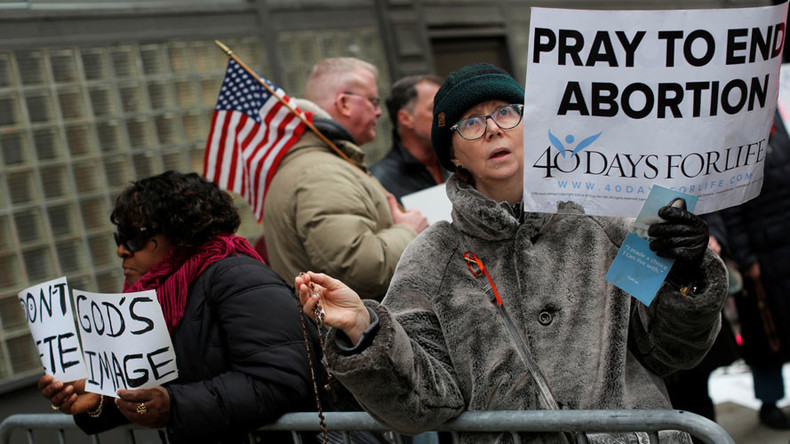 A controversial anti-abortion bill passed the Oklahoma House on Tuesday. The bill would ban doctors from performing abortions if the mother is seeking one due to a genetic abnormality.
House Bill 1549 passed with a 67-16 vote on Tuesday. It would hold physicians who violate the measure liable and face steep fines of up to $100,000.
Before Representative George Faught's bill passed, a heated debate took place on the floor of the Oklahoma House. The debate lasted for more than an hour.
"Abortion offends God, plain and simple," Rep. John Bennett said, according to KFOR.
"I heard statements of 'why are we wasting our time on a pro-life bill up here? We need to worry about the budget.' Let me ask you this, what is more important to you? Money or life?" Bennett said.
Stillwater Democrat Cory Williams asked the bill's sponsor why it did not include some of the more common exceptions allowed in anti-abortion legislation.
"Is rape the will of God?" asked Williams, according to KFOR.
After a brief pause, Faught said: "Well if you read the Bible there is actually a couple of circumstances where that happened. And the Lord uses all circumstances."
"Is incest the will of God?" asked Williams.
"Same answer," said Faught.
"You won't make any exceptions for rape. You won't make any exceptions for incest, and you are proffering divine intervention as a reason why you won't do it," Williams said. "I think it is very important [to know], do you believe rape and incest are actually the will of God?"
"Obviously if it happens in someone's life, it may not be the best thing that ever happened," Faught said, adding that he disagrees with the assertion that God is not sovereign in every aspect of life.
Other representatives questioned whether the bill would force a pregnant woman to carry to term if the doctors learn the fetus has a severe, fatal disorder.
"They had a choice to make with their doctor. With this legislation, you're taking away that choice," said Rep. Emily Virgin, a Democrat. "Your friends had the choice to carry to term; my friends had the choice to end the pregnancy and end the mental anguish to be able to move on."
After the vote, Williams told KFOR that the bill doesn't move the needle on abortion because it would last for a day before an injunction goes in place.
"Then 12 months to a year later, we get a ruling, and we pay the opposing parties' attorney's fees so it does cost the state money," said Williams.
HB 1549 will now be sent to the Oklahoma Senate.