'Merely a thankful beggar': Philadelphia DA indicted on 23 counts of bribery, extortion & fraud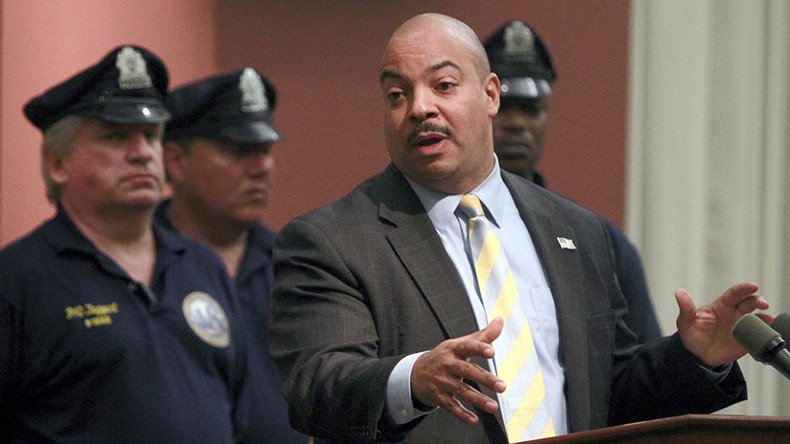 A federal grand jury has returned a 23-count indictment against Philadelphia District Attorney Rufus Seth Williams, charging him with taking bribes amounting to tens of thousands of dollars from two wealthy business owners.
The charges were announced Tuesday by Acting New Jersey US Attorney William Fitzpatrick, who took over after the US Attorney for the Eastern District of Pennsylvania recused his office from the case.
The indictment accuses Williams of accepting cash bribes and other gifts including 16 round-trip airline tickets, an all-inclusive vacation to the Dominican Republic and a Jaguar convertible.
"The indictment alleges that as District Attorney, Mr. Williams compromised himself and his elected office by standing ready to help those who were willing to pay him with money, trips, and cars," Fitzpatrick said, according to the Justice Department.
"Mr. Williams' alleged willingness to compromise his position of public trust in exchange for private financial gain is all the more unfortunate given that he was elected to protect the interests of the people of Philadelphia as their chief law enforcement officer," he added.
In exchange for the gifts he received, the indictment alleges that Williams asked a Philadelphia police officer to assist a business owner to get through security screenings at the Philadelphia International Airport on several occasions. Williams also allegedly offered to write official letters for the business owner to help them avoid screenings.
That same business owner also allegedly asked Williams to assist them in obtaining a more favorable plea offer for an unnamed third person who was being charged in a criminal case that Williams' office was conducting.
The business owner paid for Williams and his girlfriend to take a vacation to Punta Cana in the Dominican Republic, where the two stayed in a presidential suite with access to a private beach and a personal butler. During the trip, the businessman requested Williams to help a person charged in a criminal case, saying, "the guy pleaded guilty, he will take any punishment but he just doesn't wanna do jail!"
In response, Williams texted the business owner about a second vacation to the Dominican Republic he was planning: "I am merely a thankful beggar and don't want to overstep my bounds in asking... but we will gladly go."
Later, the business owner texted Williams about the case, and Williams responded that he would see what he could do to "make it a county sentence."
Williams also allegedly took bribes from another business owner, in exchange for appointing them as special advisor to the Philadelphia District Attorney's office in November 2012. At the time, the business owner was on federal probation for a tax conviction.
The business owner asked Williams to send a letter to the California Department of Alcoholic Beverage Control before a hearing that could revoke their liquor license.
The business owner also texted, "Can I be a greeter or celebrity bartender to work off my debt to you?"
The indictment additionally charges Williams with stealing more than $20,000 from a family member's Social Security payments and pension income to pay for his own personal expenses.
In order to conceal the bribes, Williams filed false personal financial statements from 2012 to 2015. When Williams learned of the case against him, he filed $160,050 in gifts for that period.
In a statement issued after he filed, Williams said: "I believe that it is very important to provide the citizens of Philadelphia with a greater foundation of trust in their elected officials," according to the Philadelphia Inquirer.
Williams took home a salary of $175,000 for his job and was the 11th highest paid employee in the city of Philadelphia in 2012, according to Philadelphia Magazine.
"The charges against him cast a shadow on the District Attorney's Office, our legal community and the entire city of Philadelphia," Gross said, according to the Philadelphia Inquirer.
The indictment is the product of nearly two years of investigation into Williams' financial affairs conducted by the FBI and IRS.
"The alleged misconduct, as specifically laid out in this indictment, is brazen and wide-ranging, as is the idea that a District Attorney would so cavalierly trade on elected office for financial gain," said Michael Harpster, the FBI special agent in charge of the investigations, according to the Justice Department.
"When elected or appointed officials stray from their sworn oaths, they must be held accountable. Combating public corruption remains the FBI's top criminal priority," Harpster added.
Williams is scheduled to be arraigned Wednesday afternoon.
You can share this story on social media: