5 congressional staffers in criminal probe over unauthorized computer access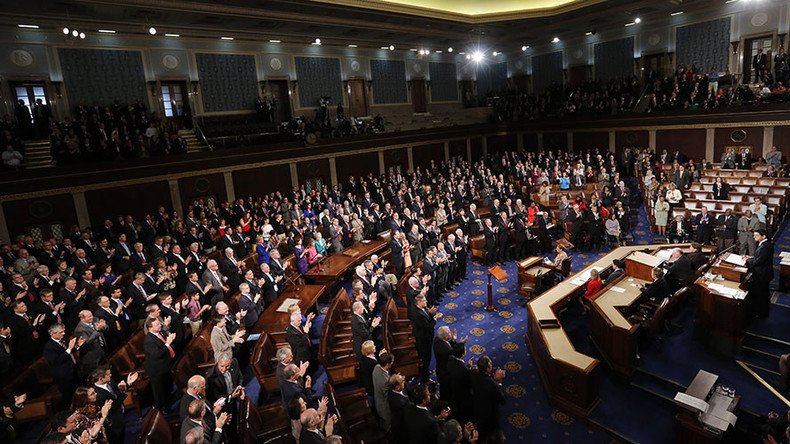 Five people employed by members of the House of Representatives remain under criminal investigation for unauthorized access to Congressional computers. Former DNC chair Debbie Wasserman Schultz employed at least one of those under investigation.
The criminal investigation into the five, which includes three brothers and a wife of one of the men, started late last year, as reported by Politico in February. The group is being investigated by US Capitol Police over allegations that they removed equipment from over 20 members' offices, as well as having run a procurement scheme to buy equipment and then overcharge the House.
House Speaker Paul Ryan said last week Capitol Police are receiving additional help for the investigation. "I won't speak to the nature of their investigation, but they're getting the kind of technical assistance they need to do that, this is under an active criminal investigation, their capabilities are pretty strong but they're also able to go and get the kind of help they need from other sources," Ryan said.
The brothers, Abid, Jamal and Imran Awan, worked as shared employees for various members of the House, covering committees relating to intelligence, terrorism and cybersecurity, which included the House Committee on Foreign Affairs, the Committee on Homeland Security and the Subcommittee on Tactical Air and Land Forces of the Armed Services Committee.
Imran's wife, Hina Alvi, and Rao Abbas, both of whom worked as House IT employees, are also under investigation.
DEBBIE WASSERMAN SCHULTZ
The group were banned from accessing the computers as a result of the investigation but, as of earlier this month, Imran Awan remains as an "technology adviser" to former Democratic National Committee chair, Debbie Wasserman Schultz, who was forced to resign in July following revelations that she worked to further Hillary Clinton's chances of winning the Democratic primary at the expense of Vermont Senator Bernie Sanders.
News of the brothers' investigation has sparked speculation that it may be tied to the hack of the DNC servers, the contents of which were first released by Guccifer 2.0 and later published on WikiLeaks.
Russian actors have been accused of being behind the hack, which Democrats claim contributed to Clinton's loss to Donald Trump. There have also been reports that the DNC hack came from an insider.
READ MORE: WikiLeaks envoy: Leaked DNC emails came from 'disgusted' whistleblower, not Russian hackers
An email between DNC staffers in April 2016, which was released by WikiLeaks, references a staff member named Imran and how this person has access to the passwords for Wasserman Schultz's iPad.
Garret Bonosky, deputy director of office of the DNC chair, tells Amy Kroll: "I have to get [this iPad] thing figured out. Need to make sure I have her username and password before I delete and reload the app."
"I do not have access to her ipad password, but Imran does," Kroll replies, later writing: "Just spoke to Imran, call me whenever GB and I'll update you, don't delete anything yet."
Another email from the DNC hack, dated December 2016, references Imran once again. Wasserman Schultz's assistant Rosalyn Kumar tells scheduler Anna Stolitzka: "[Nancy] Pelosi is doing [a] closed door meeting. No staff or anyone allowed. Kaitlyn come to Rayburn room and get her iPad for Imran."
6-FIGURE SALARIES
The brothers were paid high salaries for their work with various House members, above the median salary for Congressional staffers.
Imran, who started working for Wasserman Schultz in 2005, received $164,600 in 2016, with close to $20,000 of that coming from Wasserman Schultz.
Jamal, who started working as a staffer in 2014, was paid $157,350.12 in 2016. Abid, who started working in 2005, was paid $160,943 in 2016.
Hina Alvi, who was employed as a staffer from February 2007, was paid 168,300 in 2016. Rao Abbas was paid $85,049 in 2016.
The Daily Caller reports that Imran received $1.2 million in salary since 2010, while Abid and Alvi received over $1 million each.
House Democrats supporting the employees have suggested that the Pakistani nationality of the suspects may have inspired the investigation.
You can share this story on social media: