Bill & Hillary Clinton pay tribute to late 'friend' David Rockefeller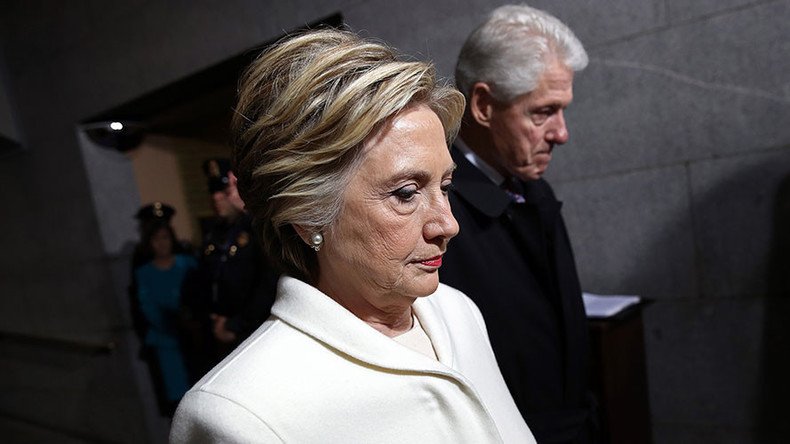 Bill and Hillary Clinton have led the tributes to deceased billionaire banker David Rockefeller, who has died at his New York home aged 101.
The Clintons remembered Rockefeller Monday as a "kind, good man" and expressed their gratitude for his "friendship and his remarkable life" in a joint statement, published on the Clinton Foundation website.
READ MORE: Billionaire banker David Rockefeller dies aged 101
"David Rockefeller was a consummate businessman, a great humanitarian, and a serious scholar. He was a kind, good man to all who met him. Hillary and I are grateful for his friendship and his remarkable life," the statement read.
The Clintons were among other political heavyweights who shared their condolences upon hearing the news that the Chase banker died in his sleep Monday.
President George HW Bush said in a statement that he and his wife, Barbara, were "deeply saddened" by the passing of their "wonderful friend," going on to call the businessman one of his "brightest points of light."
Bush commended Rockefeller for his "commitment to the widest range of worthy causes," making him a "valuable advisor to presidents of both parties - and yours truly certainly included."
The grandson of Standard Oil co-founder John D. Rockefeller was the last generation in the famous Rockefeller family, and guardian of the clan's billions.
"No individual has contributed more to the commercial and civic life of New York City over a longer period of time than David Rockefeller," said former New York Mayor Michael Bloomberg. "During my time in City Hall, he was always there for the city when we called."
"Today the world has lost a great man and philanthropist, and we, a dear friend and inspiration," wrote the president of The Rockefeller Foundation, Rajiv J Shah, in his statement.
You can share this story on social media: