Trump on Putin: 'I don't know him but certainly he is a tough cookie' (VIDEO)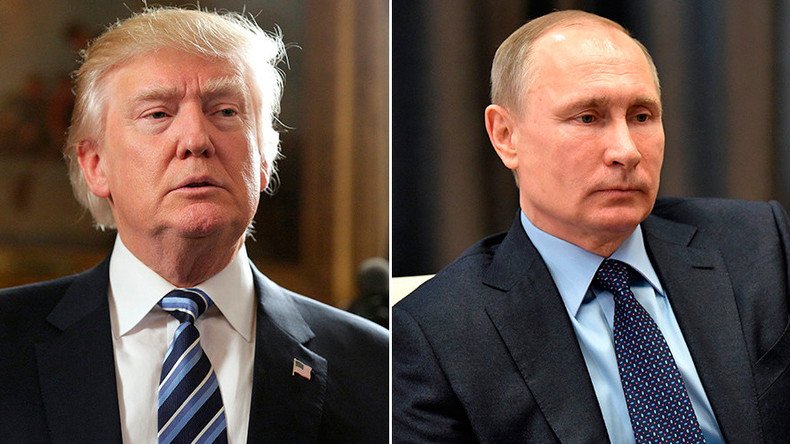 US President Donald Trump described his Russian counterpart, Vladimir Putin, as a "tough cookie," after reiterating that he does not know him personally during a rapid-fire quiz on Fox News.
Trump took the lightning round quiz as he appeared on the Fox News show Watters World, which aired Saturday night. Host Jesse Watters put a number of famous names to the president, asking him to give his personal opinion on the well known figures ranging from politicians to news channel chiefs.
READ MORE: 'No evidence' yet of Trump campaign contacts with Russia – House Intel Committee Chair
Trump, whose alleged relationship with the Russian president has come under major public scrutiny, said he didn't know Putin, "but certainly he is a tough cookie."
"I don't know how he's doing for Russia, we're going to find out one day I guess," the US leader added.
Trump, as usual, didn't mince words when it came to describing those who don't quite see eye to eye with him. The first word that came to his mind when asked about his former rival for the presidency, Hillary Clinton, was simply "disappointed."
However, he had a lot more to say when asked about a possible future rival, Democratic Senator Elizabeth Warren, who has been very vocal in her criticism of Trump.
"I think she'd lose so badly," he said, adding that it would be a dream come true if she ran against him.
He also blamed her "anger" for damaging Clinton's presidential chances, and made reference to the Native American figure Pocahontas. "Pocahontas would not be proud of [Warren] as her representative, believe me."
Trump repeatedly used the name as a dismissive moniker for Warren in reference to her claim of Native American ancestry
Rapper Snoop Dogg also came under the president's fire for a music video he produced, depicting himself pointing a toy gun at the head of a Trump-like clown character. Trump said it was a terrible thing to do to any president or person, describing it as a publicity stunt from someone whose "career is failing."
Can you imagine what the outcry would be if @SnoopDogg, failing career and all, had aimed and fired the gun at President Obama? Jail time!

— Donald J. Trump (@realDonaldTrump) March 15, 2017
READ MORE: Trump, Snoop Dogg & the language of violence
The president had some kind words to offer for others, however, calling his former campaign manager and counselor to the president, Kellyanne Conway, "a very nice woman," and Fox News host Bill O'Reilly "a great guy."
You can share this story on social media: