'He was asking for help': Police shoot, kill man on Facebook Live, family responds (VIDEO)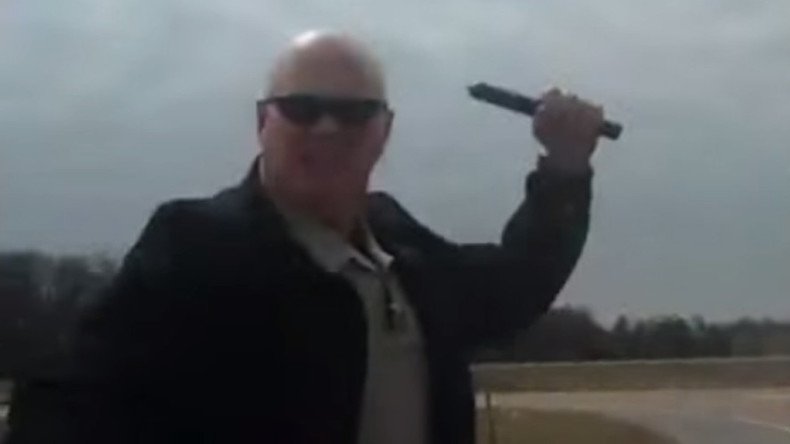 A shocking livestream video shows the final moments of a man who was fatally shot by police in Tennessee. His relatives claim he was mentally ill and asking for help.
Rodney Hess, 36, went live on Facebook twice Thursday. The first stream is of him mostly quietly driving his white SUV for several minutes. He is unintelligible at some points talking to himself, and he periodically stops the car on a two-lane highway in Crockett County, blocking traffic before he finally parks his car perpendicular to traffic in the middle of an exit ramp. That video stops shortly after police arrive and park near Hess' vehicle.
The situation turns deadly in the second broadcast, which only lasts for about a minute, as police approach Hess' vehicle. He twice asks for "higher commands to come out." The situation escalates quickly as Hess' vehicle, still perpendicular to the road, is put into reverse and then drives forward off the road. A gunshot is heard and Hess screams in pain. The car continues rolling until it crashes, and Hess' phone falls to the floor of the car where broken shards of window glass lay scattered.
On Thursday, the Tennessee Bureau of Investigation (TBI) released a statement, confirming Hess was shot by at least one Crockett County deputy, who "fired his service weapon through the front windshield of the vehicle driven by Hess, striking him."
The report states that Hess was airlifted to a hospital in Memphis, where he was later pronounced dead. No law enforcement officers were harmed during the incident.
In a press conference, Josh DeVine, Public Information Officer for TBI, said the deputy who responded to the scene requested backup when "drivers were obviously not able to get where they wanted to go."
The statement from the TBI also says that Hess was "refusing officer commands and making erratic statements," and the situation escalated after Hess "attempted to use his vehicle to strike the officers at least twice."
TBI has not released the name of the deputy who shot Hess. Mark Donahoe, the deputy's attorney, told WBBJ, "The video that I have seen, the part that I have seen appears consistent with all of the statements that I have taken in the case so far."
"I'm confident at this point that there wasn't anything done that was not following proper procedure," he said.
Family members of Hess posted a video confirming that Hess' live-stream video was "very real."
A man who identified himself as Hess' grandfather said that he was "praying that justice will be served."
"If there's anything that's covered up, that it be brought to light. That it wouldn't be just another black man shot by police officers," Lee said. "All we are asking for is justice."
Hess' fiancee, Johnisha Provost, told WWL that he suffered from bipolar disorder and "couldn't get his mind together."
"He was not on a suicide mission," Johnisha Provost said Friday from her Texas home, where she lived with Hess. "He was not trying to harm anybody. He was asking them for help and they shot him down."
"That's why he asked for a higher command," she said. "I always told him, 'Babe, if you are ever in a situation where you need help, ask the person in charge for the higher command to help you,' and that's what he kept saying."
The Crockett County Sheriff's Department released their own statement, asking for prayers for "the family of the deceased as well as all officers/dispatchers/first responders/EMS involved in the shooting today."
"As you can imagine, this is a very difficult time for all involved," the statement said.
You can share this story on social media: