Subway threatens broadcaster over 'soy chicken' report
Published time: 17 Mar, 2017 15:58
Edited time: 18 Mar, 2017 08:50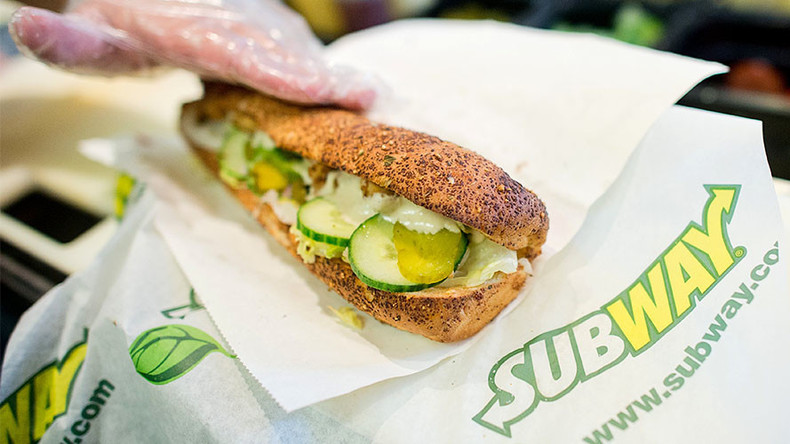 The restaurant chain Subway is threatening the Canadian Broadcasting Corporation (CBC) with a suit seeking $210 million in damages over the "factually incorrect" report that Subway's chicken was loaded with soy filler.
"Despite our efforts to share the facts with the CBC about the high quality of our chicken and to express our strong objections to their inaccurate claims, they have not issued a retraction, as we requested," Subway said, according to the Toronto Star. "Serving high-quality food to our customers is our top priority, and we are committed to seeing that this factually incorrect report is corrected."
CBC's marketplace, a consumer watchdog program, aired a segment on February 24 called "The Chicken Challenge" and found Subway's oven-roasted chicken contains a mere 53.6 percent chicken, and its chicken strips contain about 42.8 percent, according to DNA tests.
Rival fast-food sandwiches contained far more poultry, CBC reported, citing tests conducted by Trent University in Ontario. Wendy's grilled chicken sandwich scored 88.5 percent, and Tim Horton's chipotle grilled chicken wrap had 86.5 percent, according to the tests. Chicken bought in a grocery store is generally 100 percent actual poultry, according to the report.
Two independent lab tests of Subway chicken, conducted after the story aired, found "the Canadian chicken products tested had only trace amounts of soy, contradicting the accusations" made by CBC, Subway said.
The fast-food company said that CBC had called two weeks before the segment aired and "asked us a very specific question about the soy content in our food," without mentioning it had conducted DNA tests as well as taste tests with customers.
CBC confirmed it had been notified of Subway's suit.
"We believe our journalism to be sound and there is no evidence that we've seen that would lead us to change our position," CBC told New York Post.
Last year, Subway settled a federal lawsuit alleging that its foot-long subs were less than a foot long, promising plaintiffs it would enforce the 12-inch standard.