'A little unhinged': Rand Paul responds to McCain's 'working for Putin' attack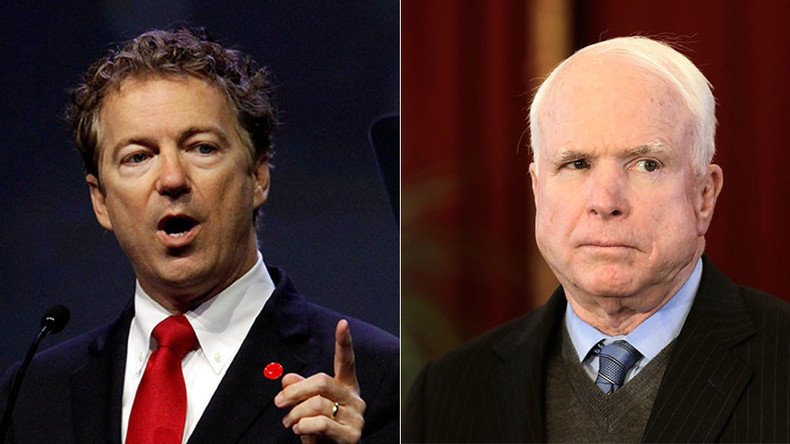 John McCain makes a good case for term limits, said Senator Rand Paul in response to the Arizona senator accusing him of working for the Russian president when he objected to Montenegro's NATO membership.
"You know, I think he makes a really strong case for term limits," Paul (R-Kentucky) told MSNBC on Thursday. "I think maybe he's past his prime. I think maybe he's gotten a little unhinged."
"To call someone somehow an enemy of the state or a traitor might be considered by most reasonable people to be a little over the top," Paul added.
McCain (R-Arizona) fumed on the Senate floor on Wednesday, accusing Paul of "working for Vladimir Putin" after he voiced an objection to Montenegro's accession to NATO.
"The only conclusion you can draw when he walks away is he has no justification for his objection to having a small nation be part of NATO that is under assault from the Russians. So I repeat again, the senator from Kentucky is now working for Vladimir Putin," the octogenarian from Arizona thundered.
McCain was not censured for the outburst against Paul. He also pre-emptively framed any objection to Montenegro's admission to NATO as working for Russia.
Such conduct could be considered a violation of Rule 19, prohibiting senators from imputing "any conduct or motive unworthy or unbecoming" to their colleagues. It was the rule invoked by Senate Majority Leader Mitch McConnell to censure Elizabeth Warren (D-Massachusetts) in February, after she criticized Jeff Sessions (R-Alabama) during a debate on his confirmation as attorney general.
"See you in court," one of Paul's campaign staffers tweeted – in Russian.
On Thursday, Paul explained the reason for his objection.
"When talk about NATO, there can be a rational discussion about the pros and cons of expanding it," he said. The US has a $20 trillion debt, with troops actively fighting in Iraq, Syria, Libya and Yemen and deployed to dozens of other countries. "We seem to be paying for all of it. Whenever there's a war fought, our soldiers fight it and our dollars pay for it."
Paul also called McCain a dangerous warmonger, referring to a 2013 Mother Jones article using the "angry McCains" index for countries the 2008 Republican presidential candidate wanted to bomb or invade.
"His foreign policy is something that would greatly endanger the US," Paul said.
Montenegro has historical and cultural ties to Russia, and less than 40 percent of its people actually favor NATO membership, Paul added. "There's a real debate about how big NATO should be and whether or not it's been more provocative than good."
Former Communist official Milo Djukanovic has ruled Montenegro in various capacities since 1998, having first served as prime minister and party secretary. Though Montenegro remained in union with Serbia following Yugoslavia's official dissolution, Djukanovic declared independence in 2006 with US and EU backing.
The country has fewer than 2,000 active duty troops and about as many inhabitants as Baltimore, Maryland, but owns the last stretch of the Adriatic Sea not claimed by NATO, after Albania and Croatia were admitted in 2009.
You can share this story on social media: