Coast Guard seizes over 4 tons of cocaine in Atlantic, largest sum since 1999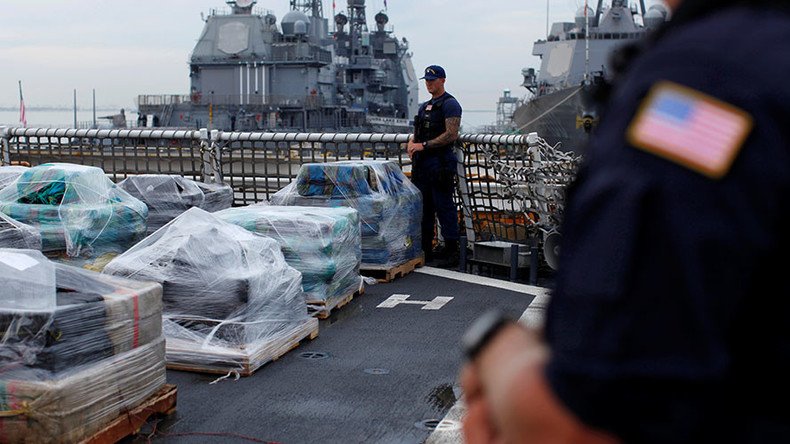 The US Coast Guard seized the biggest boatload of cocaine in nearly two decades when some $125 million worth of the drug was unloaded in Puerto Rico. Four men will be prosecuted for trafficking in the District Court of the US Virgin Islands.
The US Coast Guard at San Juan, Puerto Rico, confiscated 4.2 tons of cocaine from a fishing boat in international waters — the largest maritime seizure in the Atlantic since 1999.
The bust was a collaboration between multiple international agencies in the South American and Caribbean region, including the Trinidad and Tobago Coast Guard, the US Drug Enforcement Administration (DEA), the Barbados DEA office, Caribbean Corridor Strike Force and Operation Caribbean Guard.
Capt. Robert W. Warren, Coast Guard Sector San Juan commander, praised the operation, telling Coast Guard News, "We appreciate our continued partnerships with the Trinidad and Tobago Coast Guard and St. Vincent Coast Guard. Our collective efforts are working to secure our region's maritime borders and protect our citizens from this threat."
The US Coast Guard Cutter Joseph Napier first detected a 70-foot fishing boat, the Lady Michelle, on February 16 when it was patrolling with a ship from the Trinidad and Tobago Coast Guard. The Lady Josephine was in international waters off the coast of Suriname when the Joseph Napier crew intercepted it.
A search of the fishing boat resulted in the confiscation of numerous bales of contraband that tested positive for cocaine. The four-man crew was arrested and transferred to the US District Attorney of the Virgin Islands in Saint Croix.
You can share this story on social media: