NY declares state of emergency as East Coast schools close ahead of Winter Storm Stella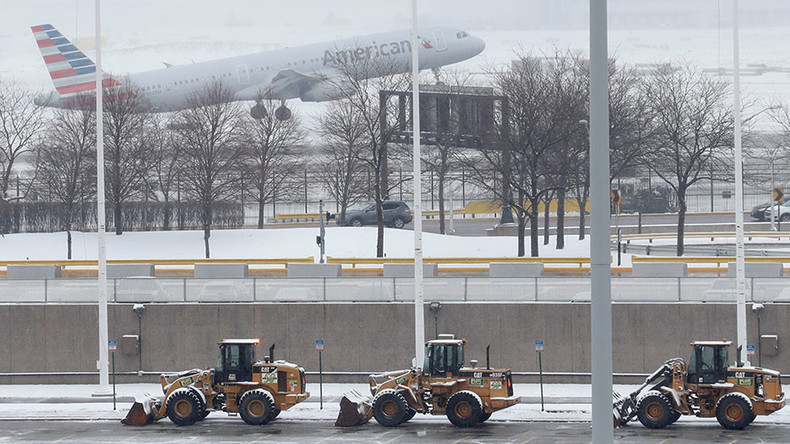 School and work, along with flights and plans, will be canceled, as cities across the Northeast brace for at least one more snowstorm this winter season. And it may be the most powerful yet, with a state of emergency announced in New York.
Travelers are already stranded, with airports from Washington, DC to Boston canceling flights for Tuesday in preparation for what could be the season's strongest snowstorm. In DC, residents are told to expect up to 10 inches Tuesday night while the New York tri-state area has been warned to anticipate over a foot.
A state of emergency has been declared for New York as a powerful snowstorm moves towards the tristate area. The level of snowfall that is forecasted would prohibit the safe operation of Long Island Rail Road and Metro-North. So people should stay home unless absolutely necessary," Governor Andrew Cuomo said.
"We're going to be hit with a tremendous challenge in the coming hours," New York City Mayor Bill de Blasio warned Monday afternoon.
United Airlines, American Airlines, Delta Air Lines, Southwest Airlines and JetBlue are among the companies which have canceled some 4,000 flights to and from DC, Philadelphia, New York and Boston starting Monday night just before the storm hits, ABC News reported.
Unfortunately for travelers, even potential backup plans are being affected by the impending bad weather. Amtrak suspended the Acela service between New York City and Boston for Tuesday as well.
Meanwhile, de Blasio announced that all classes were shut for Tuesday. The same applies to Philadelphia where both public and Catholic schools will not open.
The storm moved east from the Midwest, where it left two dead. In Wisconsin, a 64-year-old man and a 76-year-old man both died while clearing snow Monday, according to The Weather Channel.
As the snowstorm approached Monday night, many East Coasters rushed to grocery stores to stock up on necessities and prepared for at least one snow day. Others relied on humor to get them through.