No robbery? New tape casts doubt on Ferguson cops' allegations in Brown killing
Published time: 13 Mar, 2017 09:30
Edited time: 3 Aug, 2017 16:11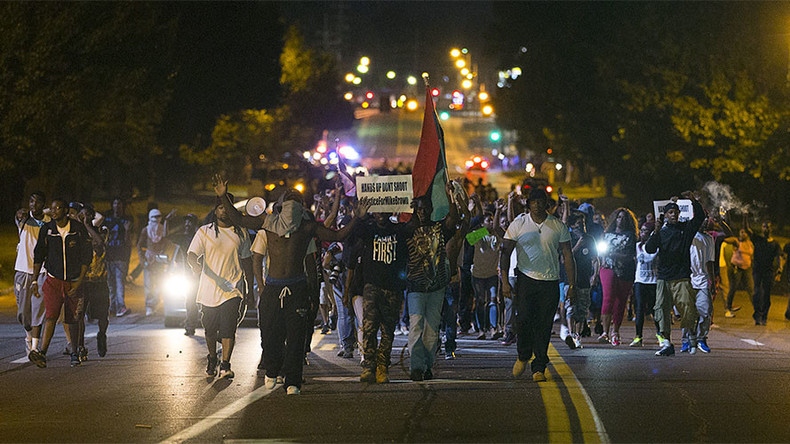 A new tape showing Michael Brown hours before his death in a store, apparently exchanging pot for cigarillos, challenges police accounts of the incident. The black teen's killing for suspected robbery triggered mass protests against police violence worldwide.
The documentary 'Stranger Fruit' by filmmaker Jason Pollock premiered Saturday in Austin, Texas. A short clip of the documentary was first uploaded by the New York Times.
It features the surveillance footage showing Brown visiting Ferguson Market & Liquor store around 1am on August 9, 2014. The video is taken some 11 hours before Brown returned to the store and committed a robbery, as alleged in police accounts.
The teenager is seen entering the store, approaching the counter and handing over a small bag to employees behind the store's counter. Pollock suggested that the bag contained marijuana.
Then Brown takes a small sack with cigarillos. He is seen walking towards the door. However, he is then seen handing the cigarillos back to the employees and exiting the store.
"Mike did not rob the store," Pollock concludes in his documentary.
"There was some type of exchange, for one thing, for another," Lesley McSpadden, Brown's mother, says in Pollock's video, adding that employees of the store seem to know Brown.
Pollock told the NYT that police "destroyed Michael's character with the tape, and they didn't show us what actually happened."
"So this shows their intention to make him look bad. And shows suppression of evidence," he added.
People on social media praised the documentary, saying that Pollock had worked hard to "get the truth."
However, Jay Kanzler, a lawyer for the convenience store and its employees, said that the video is unrelated to the later events.
"There was no transaction," Kanzler told the NYT. "There was no understanding. No agreement. Those folks didn't sell him cigarillos for pot. The reason he gave it back is he was walking out the door with unpaid merchandise and they wanted it back."
St. Louis County Police Chief Jon Belmar told STLtoday news website that the fact that Brown visited the store earlier was "news to me."
Following the release of the film, a small protest gathered near Ferguson Market & Liquor, calling for justice, STLtoday reported.
The 2014 death of Brown, 18, at the hands of Darren Wilson, a white Ferguson, Missouri, police officer, was the catalyst for the Black Lives Matter movement. News media initially reported that witnesses and activists claimed that Brown had his hands up and was shot while running away.
However, the subsequent investigation determined that many of the initial reports were false, and many witnesses retracted or changed their stories. Forensic evidence showed that Brown was not, in fact, shot in the back.